When she's not making an appearance, Dakota Fanning has really messy hair. I don't think she cares, of course. She doesn't seem the type. But I can't help but notice the stringy tresses each time she steps out in New York City.
Surprisingly, last week was different. Dakota's outfit actually took precedence over her unkempt blond locks. Instead of focusing on her mane, I couldn't help but look at the getup she slipped into for her acting class. The look consisted of a long coat, some sleek leather-like brown skinny jeans, and a cream sweater. She topped the mix with a maroon printed scarf and a pair of camel brown ankle boots. The combination was spot-on and very fall-appropriate; and I must say, she actually looked really nice.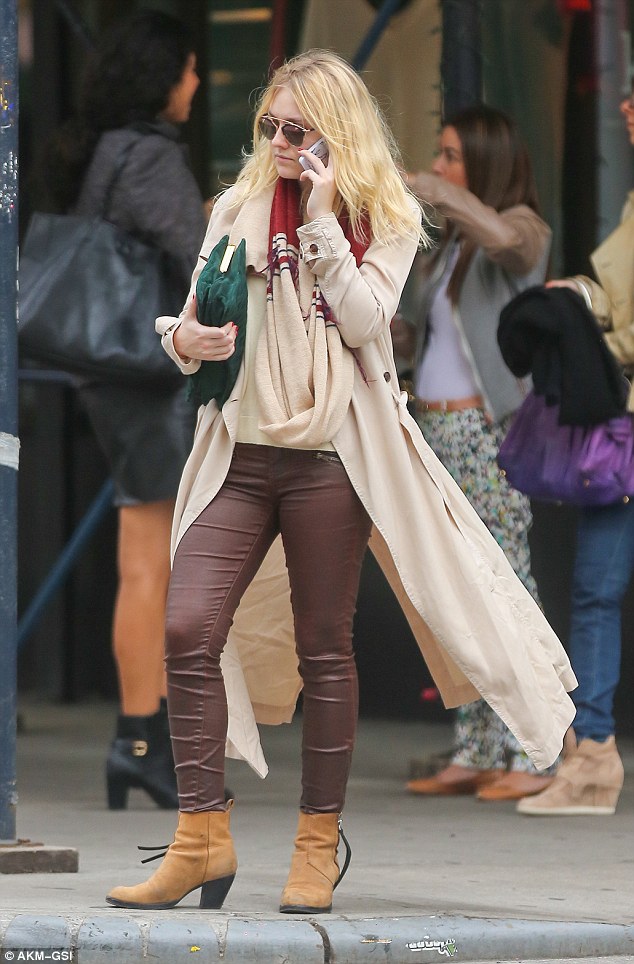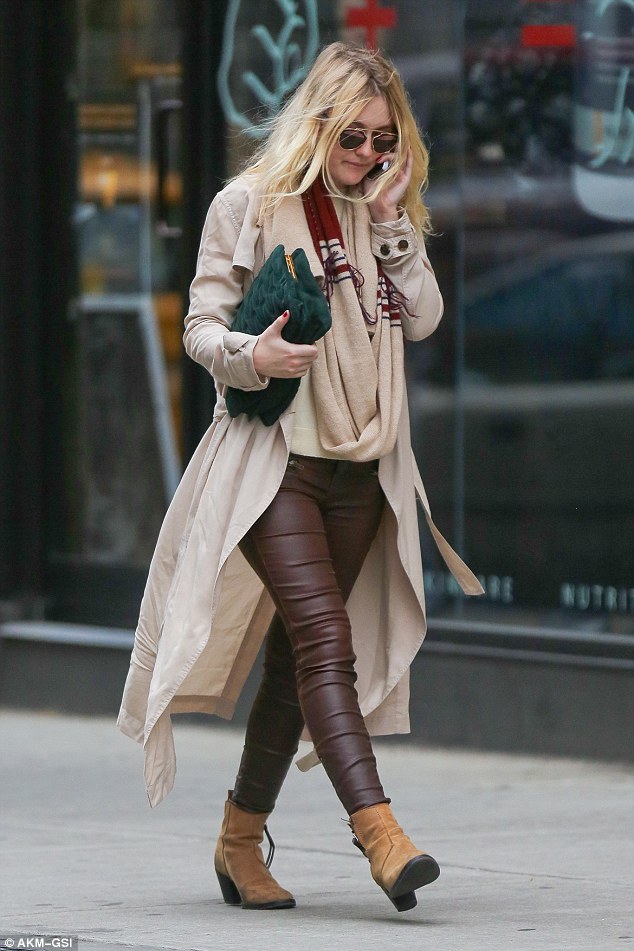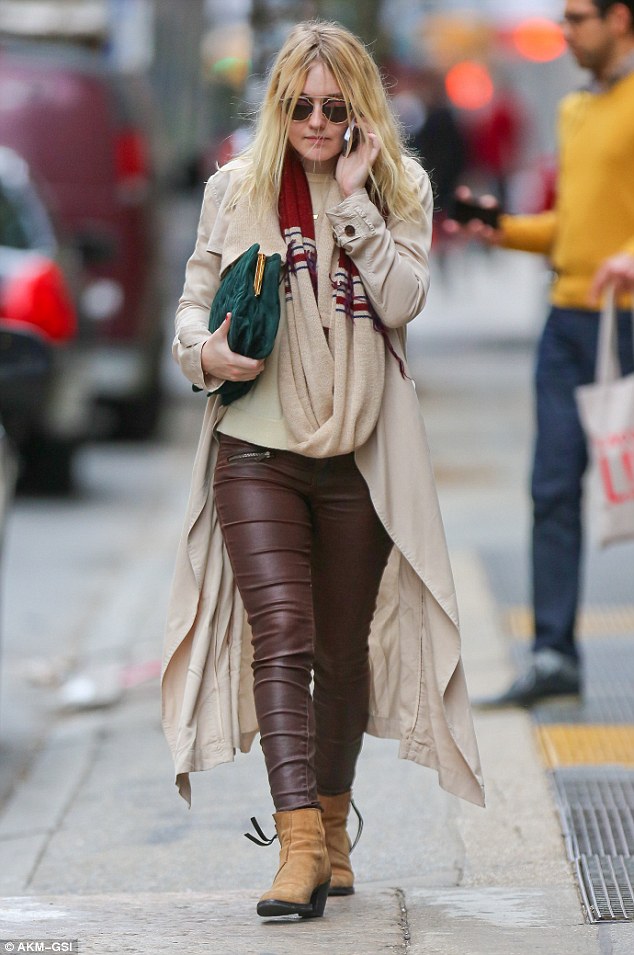 Dakota Fanning dresses in fall-appropriate garb as she heads to her acting class in New York City, October 2, 2014
Do you like Dakota's outfit as much as I do?
You know, if I could pinpoint what I like about her whole getup, it's the contrast between the dark brown pants and the the camel-brown boots. Next to that, I love how she added pops of color into the outfit — an emerald green clutch and a scarf detailed with maroon bands.
I thought it would be fun to channel Dakota's look today. Here's a combination I put together using heeled boots from Sam Edelman. Will you wear this outfit?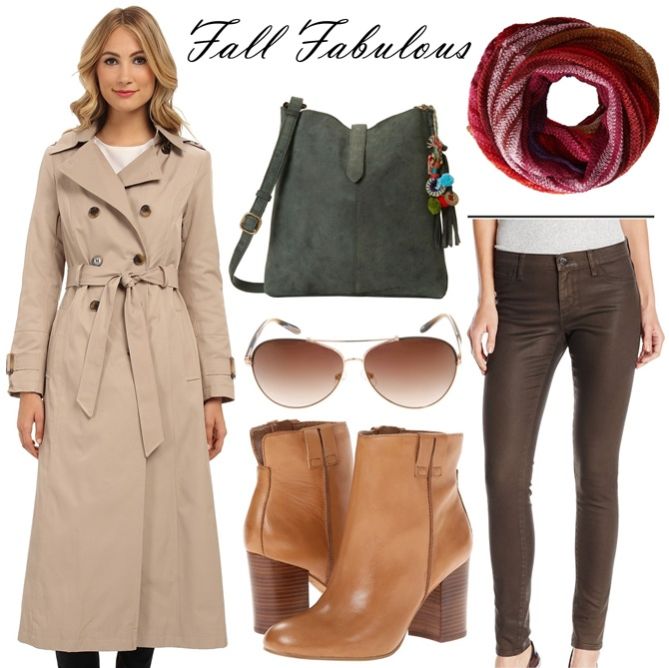 DKNY Long Maxi Coat, $154 / Lilly Pulitzer Allie Sunglasses, $125 / Echo Design Ombre Multi Stripe Scarf, $38 / DKNY Jeans Ave Skinny Coated Jeans, $110 / Lucky Brand Casbah Crossbody Bag, $168
Below is a closer look at the boots I featured in the mix above. The "Fairfield" come fashioned with 2.5-inch-tall stacked wooden heels, shafts of about 6.75 inches tall, and leather uppers in buttery honey shade that will look even more gorgeous when paired with the coated dark brown jeans from DKNY.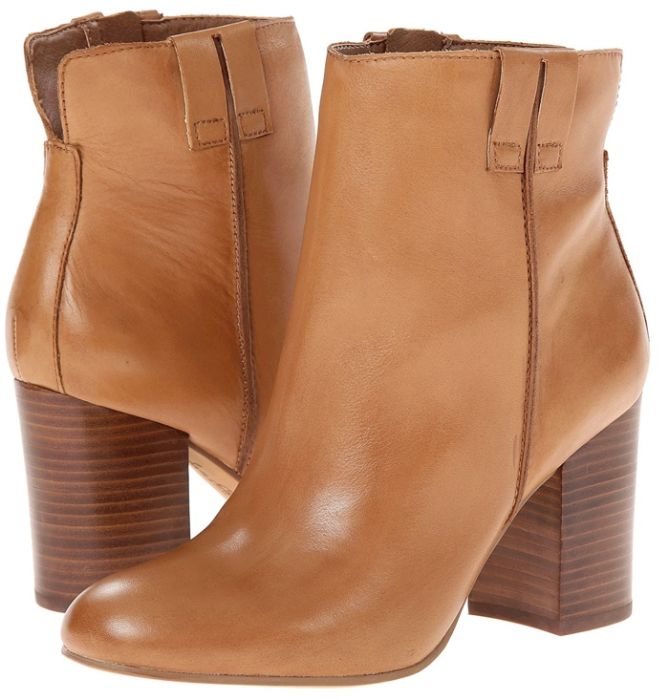 Sam Edelman Fairfield Boots in Honey, $160
If you're not fond of heeled boots, you can go with these ultra comfortable slip on boots from Bogs.  They're crafted from waterproof leather and feature rubber soles, as well as 7-inch-tall shafts. A pair will cost you about $140: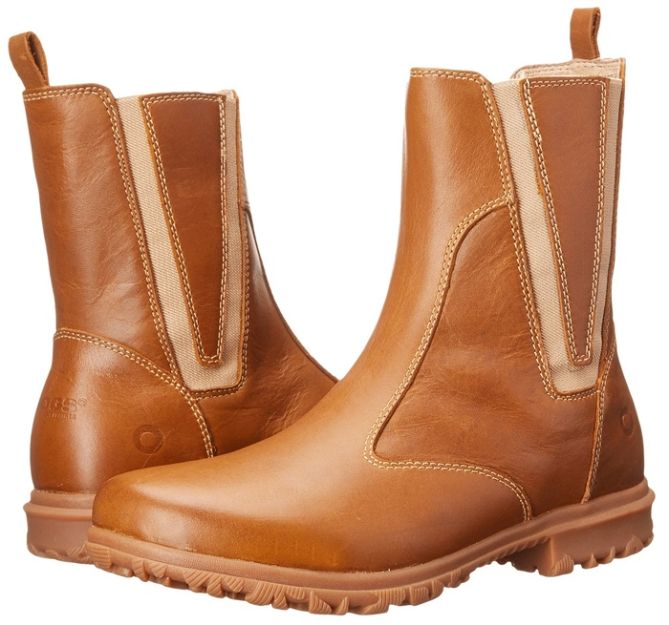 Bogs Pearl Slip On Boots, $140