It's been a while since I've seen Fergie sport an edgy look that's reminiscent of how she used to dress when she was touring for Black Eyed Peas. That's why I was quite happy to see these pictures of the singer looking super cool as ever while out and about with some pals in Los Angeles over the weekend. Fergie's denim-clad outfit in these photos is nothing extraordinary, really. But the accessories she used to go with made such a huge difference. I mean, WOW, she looks amazing here, don't you think?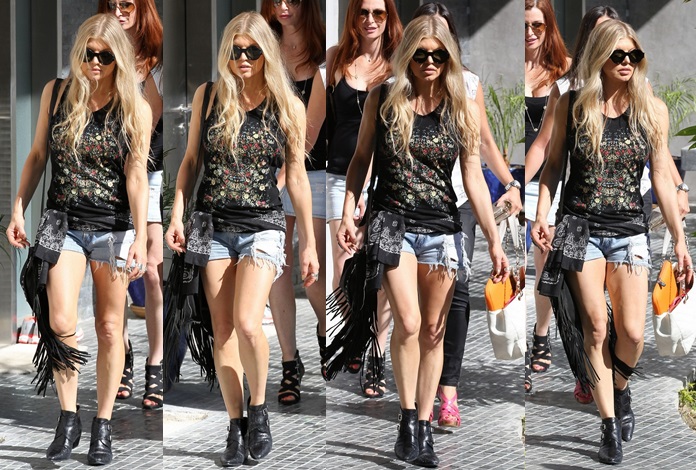 Fergie leaves a friend's house in Los Angeles with a few other pals, June 21, 2014
Yep, she's definitely rockin' that outfit like she was born to.
Short denim cutoffs mixed with a black printed muscle tee isn't exactly what you'd call a unique combination, but the extras — oversized eyewear, bandanna at the hip, a fringed purse, and black buckled ankle boots — really amped up her style. Plus, she looks perfectly fit and really sexy in these photos. It's like she never even had a baby!
So do you like Fergie's latest take on summer fashion as much as I do? Would you like to take a cue and copy the look?
It will certainly be a fresh change from all the sandals we're all seeing this summer. Here's a combination I put together using buckled boots from Tildon. I chose pieces that are affordable and very wearable so spending for them will feel more worth while.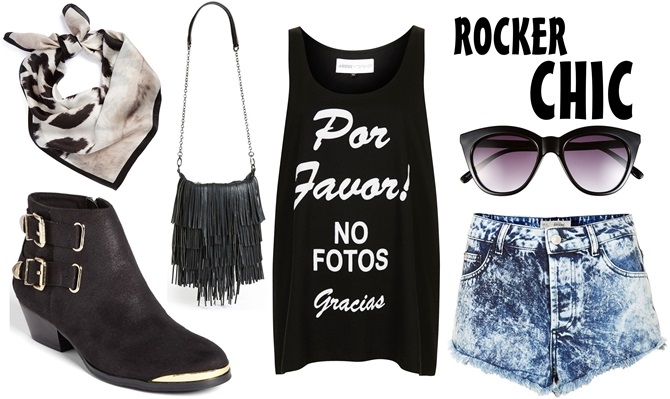 Vince Camuto Wild Thing Silk Scarf, $58 / Topshop Brooke Acid Wash Denim Cutoffs, $56 / Topshop X Ashish Por Favor Tank, $70 / BP Cat Eye Sunglasses, $12 / Steve Madden BMocha Fringe Crossbody, $68 / Tildon Sable Boots, $90
Also, here's a closer look at those boots from Tildon. These shoes feature gold details at the toes, double-buckled straps at the ankles, 1.25-inch-tall thick tapered heels, and shafts that are about 4 inches tall. They're easy to wear and very practical in terms of look and feel. In fact, you can wear them all year round.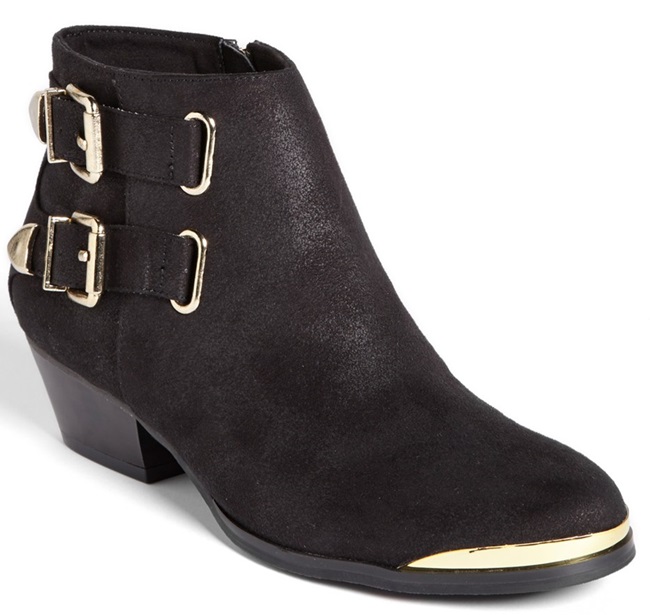 Tildon Sable Buckle Boots, $90