Rumors about actress Eva Mendes and her hot boyfriend Ryan Gosling split have been buzzing around lately since last year, but to this day, there isn't any clear score on the status of their relationship. Some says Ryan has been cheating on Eva with his ex-girlfriend and The Notebook co-star Rachel McAdam, while some reports say that Eva's already hitting on her last straw of patience on her beau's inability to commit.
Oh well, I am really more fond of the Ryan Gosling-Rachel McAdams love team, but I couldn't rejoice if ever Eva and Ryan are really splitting up. After all, they've been together for more than two years now.
In the dinner hosted by New York & Co. where the actress was one of the special guests, Eva gushed about her boyfriend and declared,for the first time in public, her admiration for the hunky star.
And now Eva Mendes has declared for the first time in public her admiration for the hunky star in a new interview.
Whatever the real score between the two, Eva still pulled off that hot and fab glow amidst lovelife issues in the said dinner event. The brunette looked pretty in a grey strapless dress and gold pumps as she pinned her tresses into a knot, revealing her fine features.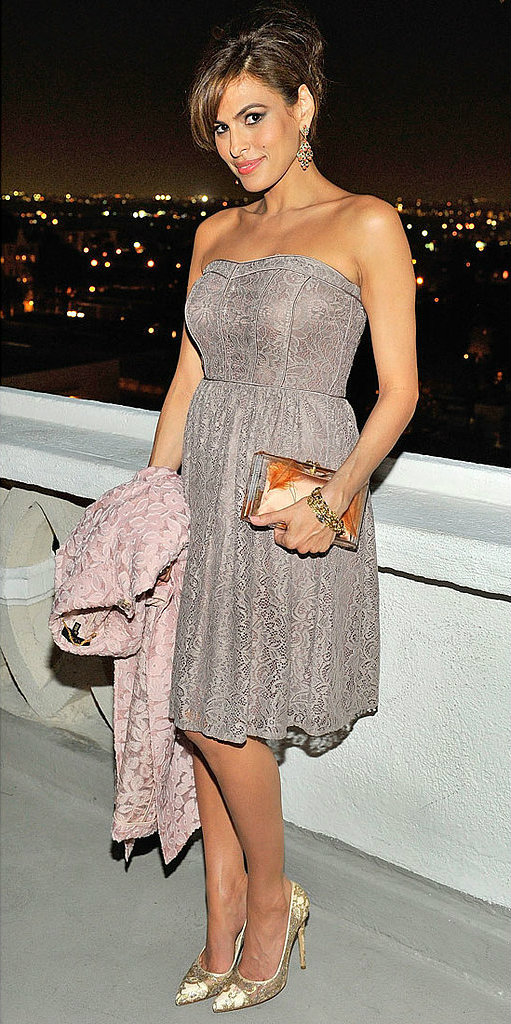 I am sooo loving her shoes in this outift! It's just the perfect fit for this ensemble! It's actually Bionda Castana Gold Lace Heels.
I saw an equally pretty fair like Eva's shoes, but it's Manolo Blahnik. It also has that sheer floral lace which heightens the romance of a pointed – toe- pump with an alluring low-cut topline.