I usually like what Emma Watson puts on the red carpet each time she makes an appearance (I mean, the girl rarely goes wrong with her style), but at the 2014 Golden Globe Awards held yesterday, I found something slightly (yes, just slightly) off with her outfit.
The former Harry Potter star arrived at the event in an eye-popping orange-red gown by Dior Couture that featured a super high slit at the center front and a non-existent back. You heard that right, the back of her gown was missing — intentionally, of course. The detail was both surprising and sexy, and to compensate for the absence (of fabric), Emma wore black trousers with the dress — which was totally an on-point thing to do.
Here's the thing, though. What I found a little odd was how she punctuated the outfit with blue suede pointy pumps instead of sexy sandals. No, don't get me wrong. I didn't find the color of her shoes inappropriate nor did I find the pumps ugly. However, I was hoping for a sexier pair of heels (read: skin-baring strappy sandals) given how she was already quite covered up at the front. Check out the photos below and tell me if you agree: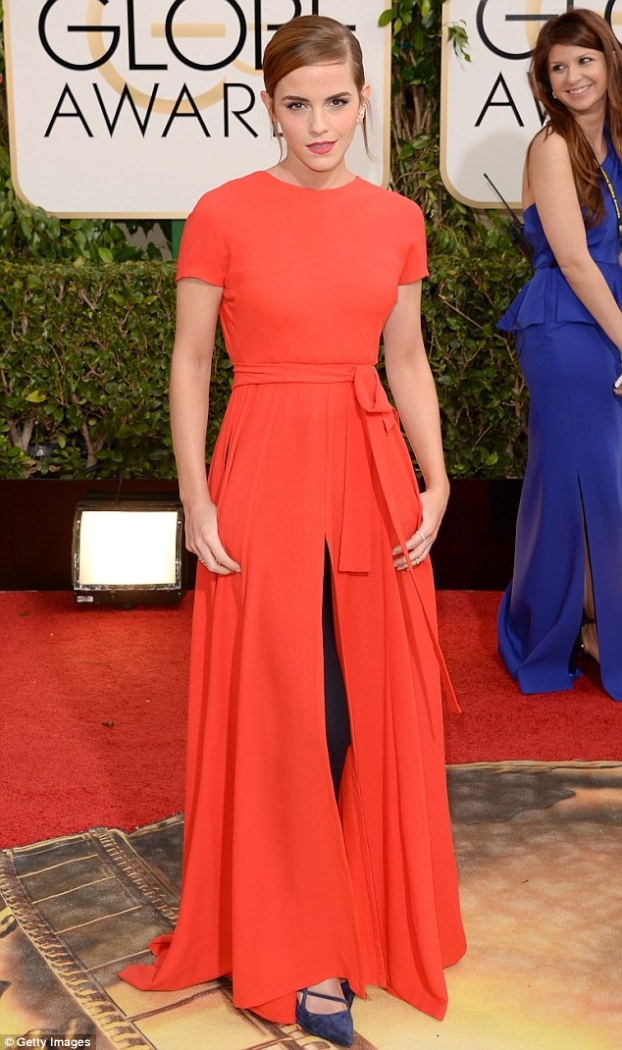 Emma Watson wears pants with a back-less split-front gown by Dior Couture to the 2014 Golden Globe Awards, January 12, 2014
Well, any thoughts? Does she look hot in those blue suede pointy shoes or not?
Granted, the gown is completely unique and one of a kind; and granted, she really turned heads by wearing pants to an event like the Golden Globes, but did she pick the right kicks to go with?
Emma's pumps are reportedly from Roger Vivier. I'm guessing they're from the label's spring 2014 collection because I could not find them online. In any case, allow me to show you what I wish she wore with the dress.
Check out the "Divina" from Edmundo Castillo. These ankle-wrap sandals are sleek and downright sexy. They feature 4-inch tall heels and thin straps that wrap around the ankles. These would have been perfect with Emma's dress. Would you agree?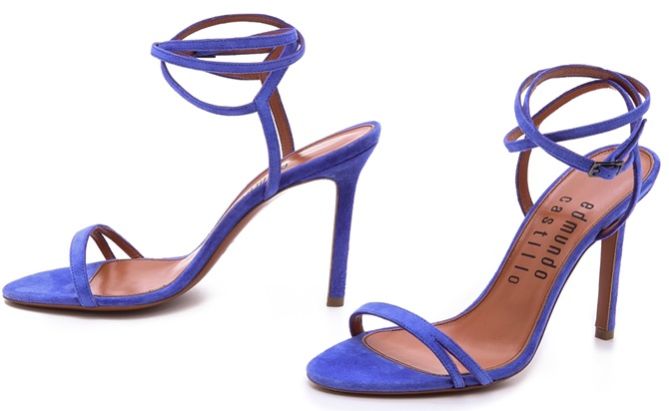 Edmundo Castillo Divina Ankle Wrap Sandals, $695