Emma Stone is on a roll. For the whole Spiderman 2 promotional run, the actress has never failed to look fabulous. She should give her stylist a raise because each appearance she has made has been nothing short of flawless. It also looks like Emma outdid herself in the style department yesterday. The red-haired (and sometimes blond) beauty attended the premiere of her superhero movie in New York last evening and she looked completely stunning.
For the occasion, Emma debuted a new bob that was the perfect combination of messy and cute. What was so breathtaking about her whole look at the premiere, however, was her Prada gown. It was completely sublime.
The flowy piece came in a barely-there nude color that suited her skintone. It was cut extra low on the sides so it revealed just a hint of her side boobs. But what I liked most about the dress were the simple but edgy add-ons — studs on dark purple trim that lined the bodice!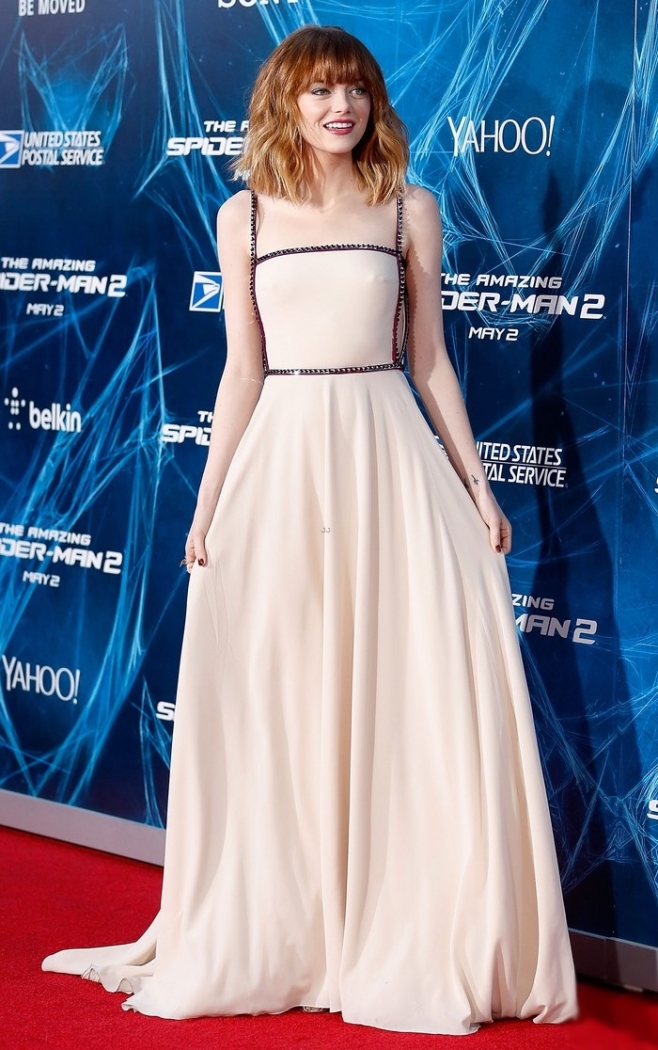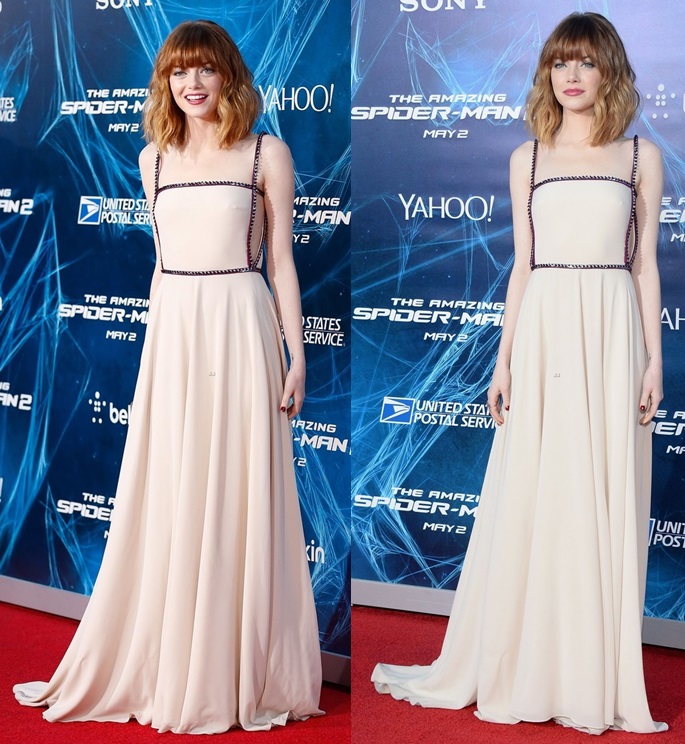 Emma Stone looks fantastic in a studded Prada gown at the New York premiere of Spiderman 2, April 24, 2014
WOW. She looks amazing. I don't care if her nipples are showing through, because she looks phenomenal!
Aside from the dress, I was also curious what shoes she wore to go with. Thankfully, these pictures of Emma playing with the skirt of her gown were available. They seem to be classic peep-toe heels in mirror silver. I found out that they're also from Prada. As to which specific pair or style, that I have yet to find out.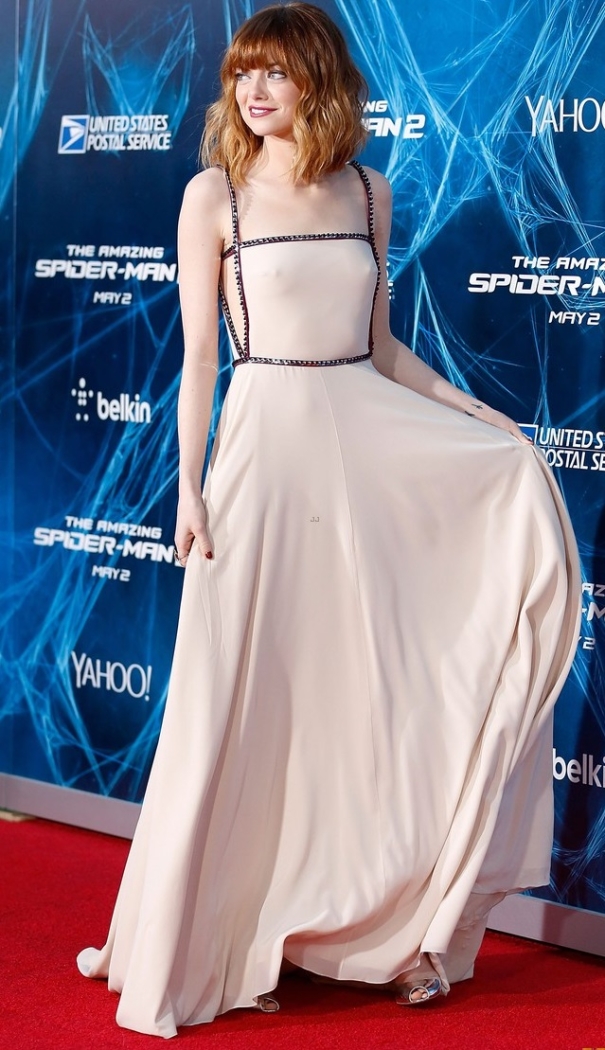 A closer look at Emma's metallic peep-toe pumps
Now if I were to make a calculated guess based on the pictures above, I think Emma's heels are these Prada asymmetrical sling sandals. If you look closely, the insides of her shoes are covered with silver material while the outer sides are open.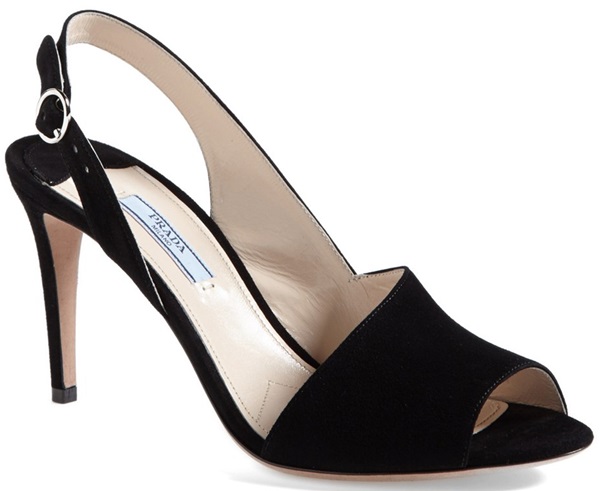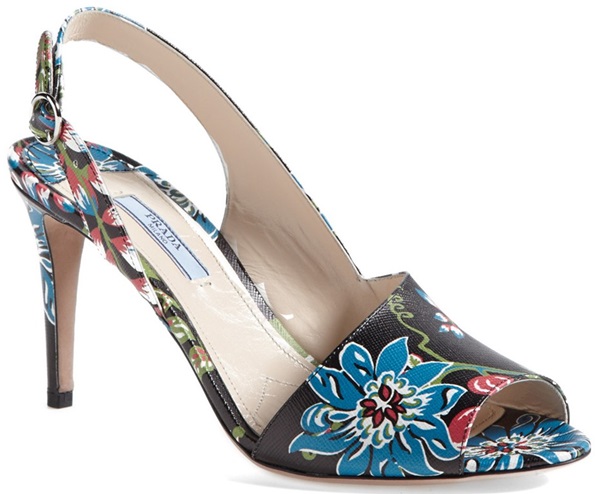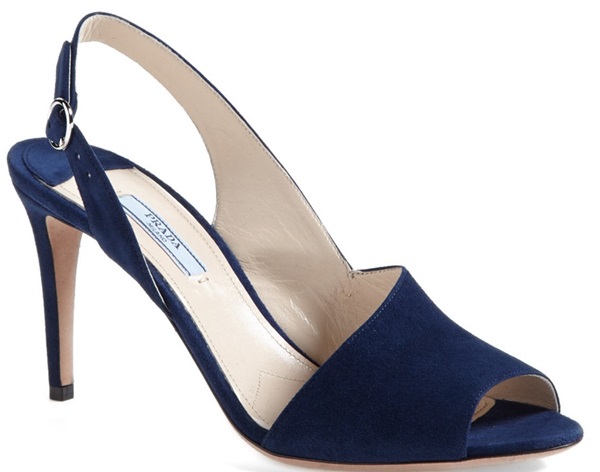 Prada Asymmetrical Sling Sandals in Black, Floral, and Blue, $760
What do you think, could my hunch be correct?
I couldn't find the mirror silver version of these shoes online, but I have a strong feeling that I'm on target with this one. You can find these Prada sling sandals over at Nordstrom. They retail at $760.
If you fancy grabbing a pair but can't afford to spill that much money, try these alternatives from Ted Baker instead. The "Maceey" come in two renditions — orange and nude. They also feature the same asymmetrical silhouette. The best part is that they'll only set you back an affordable $200.