Just so you know, I'm terribly tiny; like really small (think Ashley Olsen). Finding my size in the women's section can get a little hard sometimes. The same goes for looks that I want to copy but can't, simply because I'm too short and small. But I do look up to several stylish celebrities and iconic fashionistas (i.e. Olivia Palermo) for cues and tips.  Today, I'm getting some advice from Emma Roberts.
The girl's got style; that much I can say. Not everyone in Hollywood can put together a chic outfit without the help of a stylist, so I think Emma deserves points for pulling off looks that are actually quite hard to, well, pull off. Take for example, these photos of the actress wearing a striped midi skirt.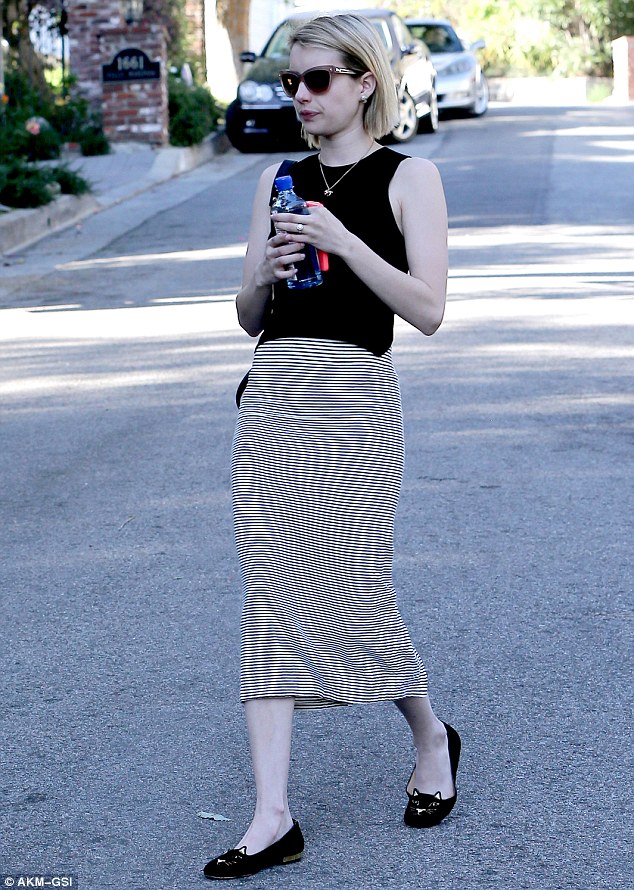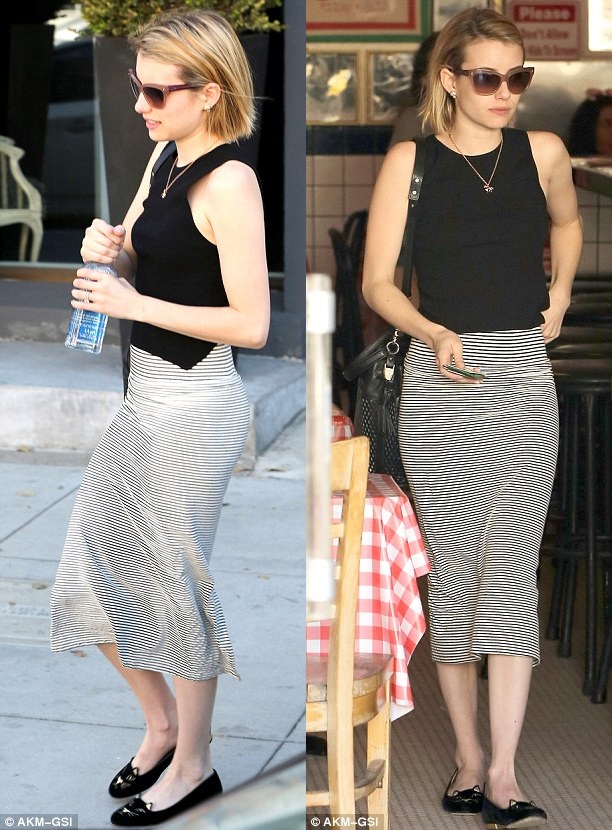 Emma Roberts grabs some lunch at a pizza place in Beverly Hills, March 16, 2014
Midi skirts aren't exactly the best skirts for short women. They make you look shorter than you already are, simply because of the length of the garment. And when it's a striped midi skirt you're wearing, it gets even more unflattering because of the horizontal lines (they make you look wider, thus, shorter too). 
Emma is quite tiny, but she was able to get away with the skirt by wearing it correctly. Well, first of all, she chose the right kind of stripes — thin and tiny ones that don't look obvious from afar.
Secondly, she picked a skirt silhouette that was high-waisted and fit close to the body, so she was able to get that column like effect.
Third, she wore the skirt with a cropped top. Doing so gave the illusion of longer legs and a shorter torso. Notice how leggy models look towering? That's because their legs are longer than their torso. So basically, the illusion of long legs will make you look tall.
Lastly, she finished the outfit with flattering shoes for more leg-lengthening effect (instead of ankle booties or ankle strap sandals, which have a tendency to make your legs look short).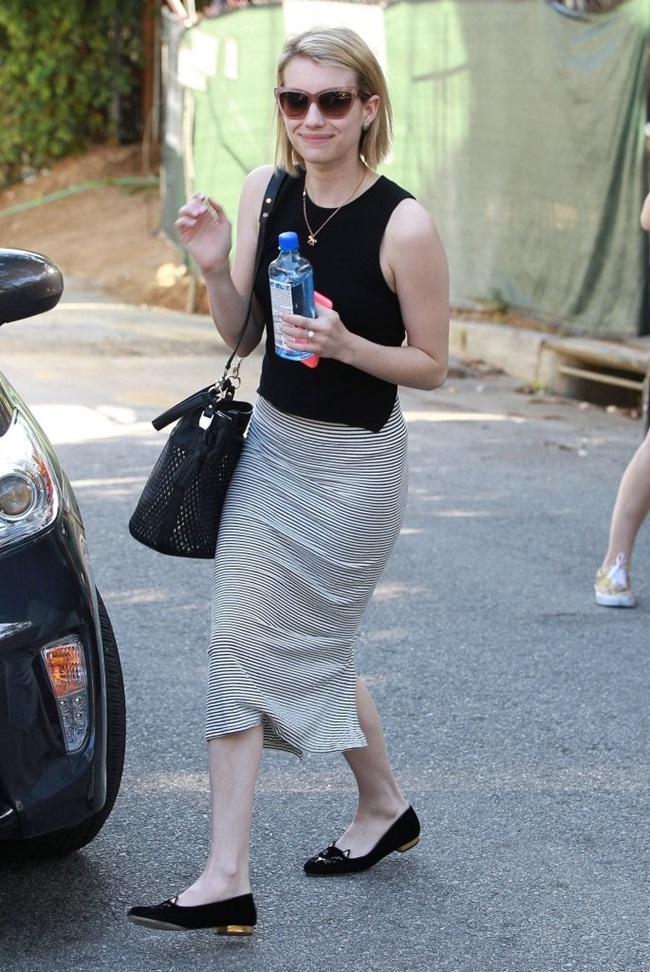 Emma looks chic in a striped midi skirt and cropped top as she grabs lunch
This guide applies to women with average or below-average height, and most especially to women with short legs. If you've got all four points covered, I don't think you'll have a hard time pulling off the striped midi skirt "look". I, for one, am going to try to put together the same look this month using some pieces I found over at Nordstrom. Check out the mix I put together below: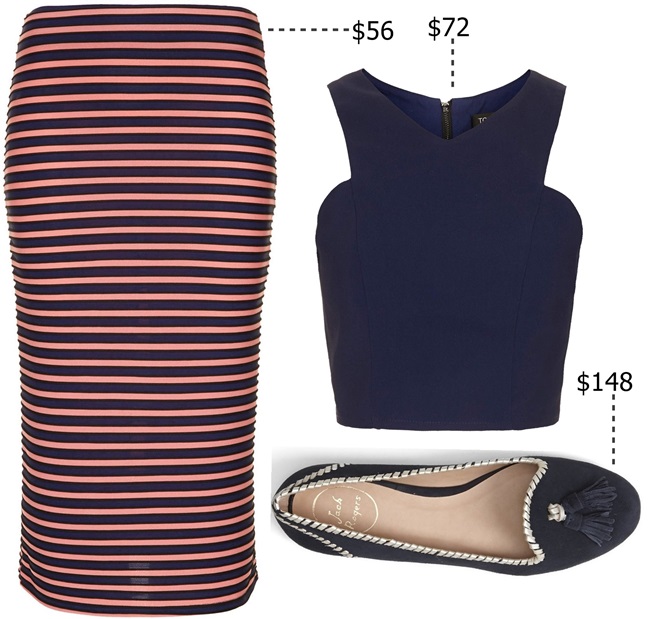 Skirt and top, Topshop / Loafers, Jack Rogers (all available at Nordstrom)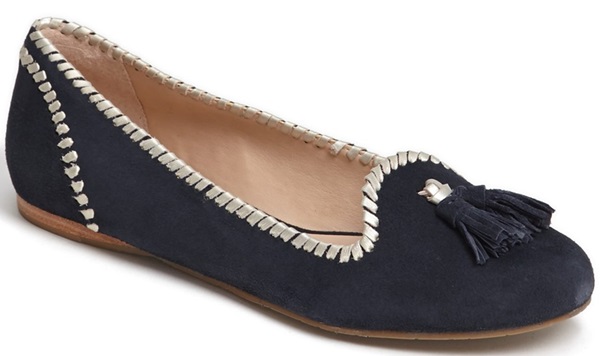 Jack Rogers Worth IV Flats, $148
Not bad, right?
By the way, since we're all about shoes here, Emma's cat-face loafers are from none other than Charlotte Olympia (as if you don't already know). They're called the Kitty Flats, and they feature half-inch thick metallic covered heels, and velvet uppers with cat face design at the toes. They're actually the perfect alternatives to the classic ballet flats. If you're interested, you can grab them at Nordstrom for $595: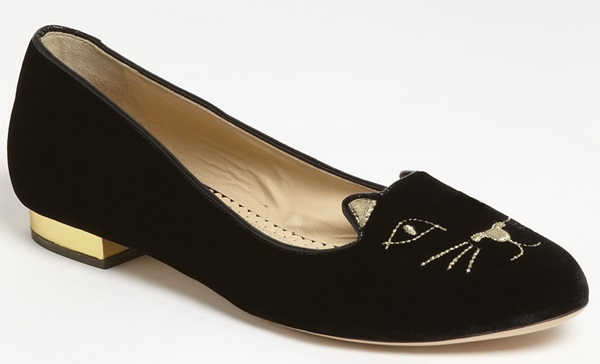 Charlotte Olympia Kitty Loafers, $595