Dakota Fanning finally put her messy hair to rest last Friday, when she attended The Daily Front Row's Fashion Media Awards held at the Park Hyatt in New York City. The blond cutie kept her tresses at bay for the occasion, and slipped into an ultra colorful printed halter dress that brought out her creamy complexion and beautiful blue eyes. The frock was pleated at the front and cut like a trapeze. She paired it with strappy blue wedge sandals and barely-there makeup. No baubles were in site, which was just as well since the dress was already quite busy and the shoes already quite bright.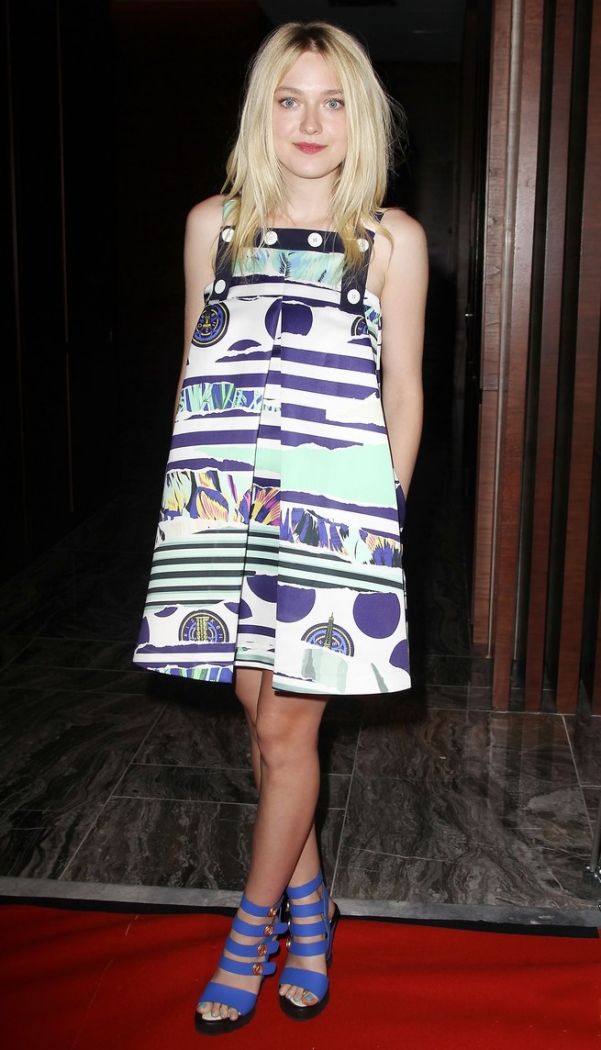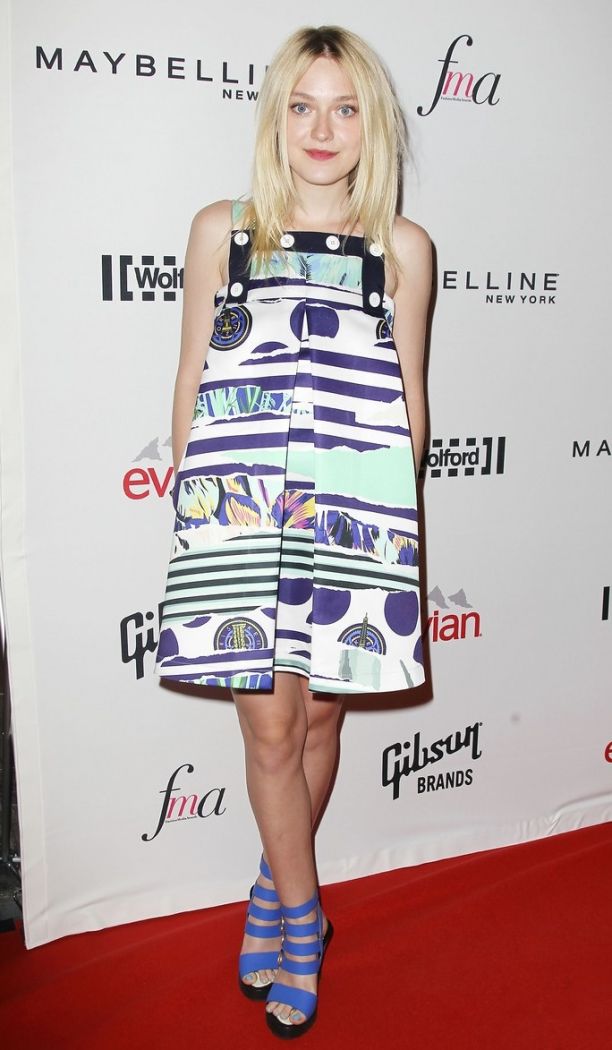 Dakota Fanning wears a printed dress from Kenzo for the Fashion Media Awards held in New York City on September 5, 2014
Do you like Dakota's latest red carpet style?
I think she looks wonderful. The dress is gorgeously printed and the cut is very unique. I love all the colors bursting out of it, and I also love how she teamed the piece with bright blue strappy wedge sandals. It's the perfect mix of dressy and casual.
Dakota is wearing Kenzo resort 2015 from head to toe (yes, shoes included). That basically means you'll need to wait a few months before you can find the pieces online. Below is a look at the dress and sandals from the runway:
Kenzo Resort 2015 Printed Halter Dress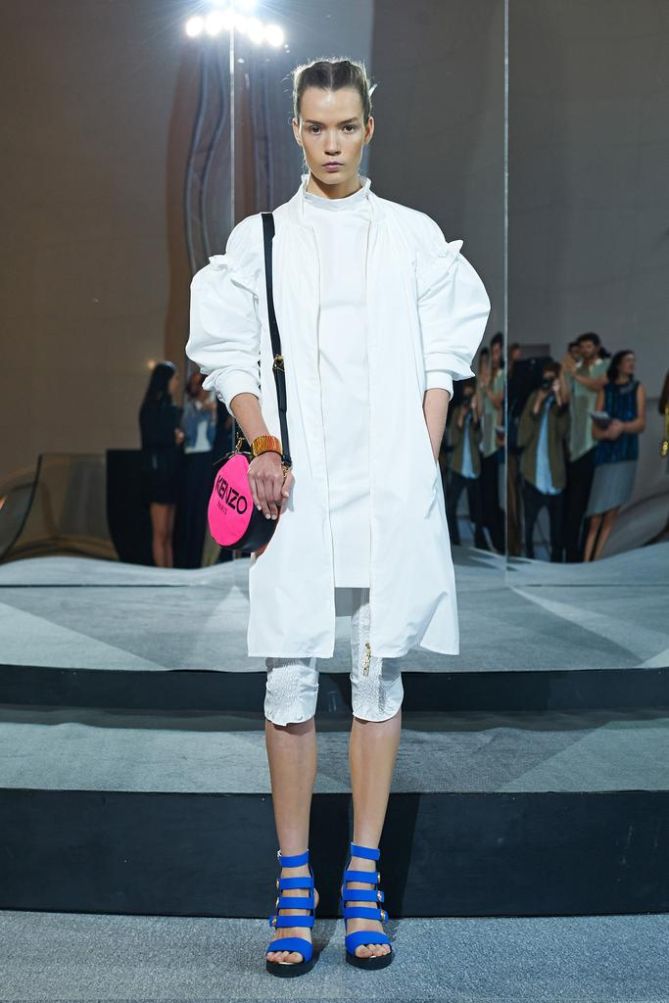 Kenzo Resort 2014 Wedge Sandals
That said, if you're simply looking to steal Dakota's effortlessly chic style, you can easily do that my mixing a printed dress with bright sandals in the same color family. Here are two options you can consider depending on how much you're willing to spend:
Lovers + Friends I Heart Babydoll Dress, $52 (was $172) / Rebecca Taylor Enchanted Drop Waist Dress, $130 (was $325)
Mix any of the two dresses with the colorblock sandals from Shoe Republic and you're all set. The "Jolamda" feature stitched straps, 5-inch-tall heels, and half-an-inch-thick platforms. They're not wedges, but they're quite stunning and will work great when worn with pieces printed in the same color family. The best part about these sandals is the price — an easy $55: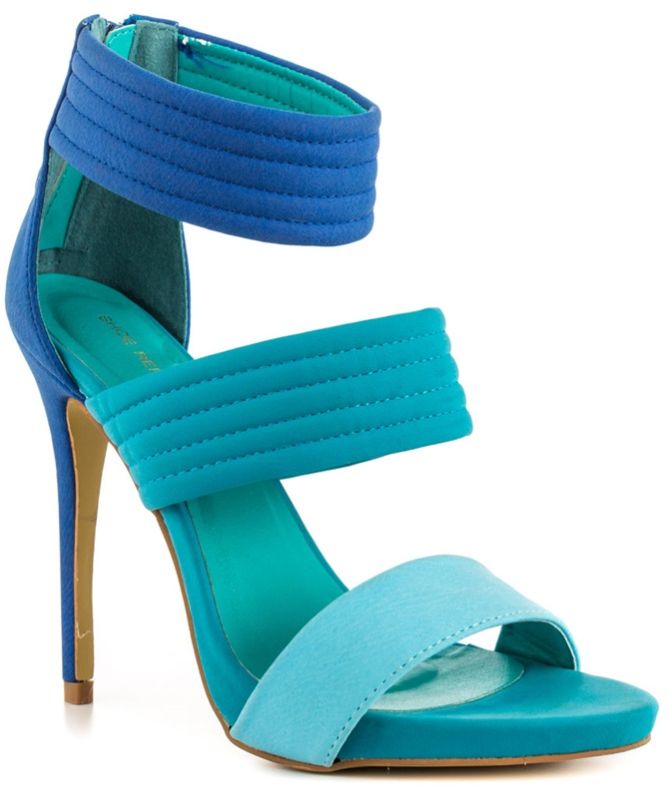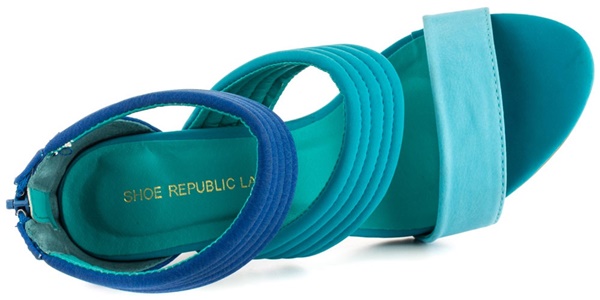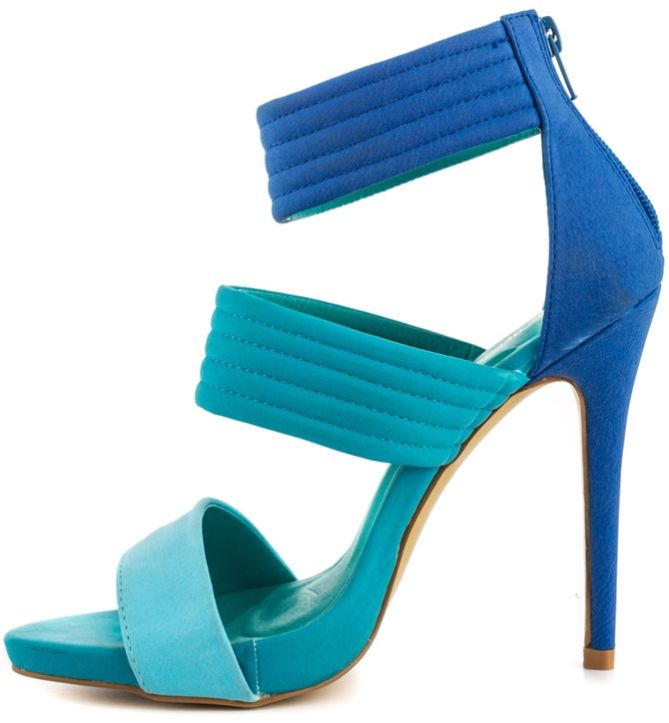 Shoe Republic Jolamda Sandals, $55