Chrissy Teigen almost exposed her bossom while on the way to a photo shoot in New York on Wednesday (July 30). The Sports Illustrated hottie was decked in a man's shirt and a pair of nude knee-high boots for the outing. Somehow, Chrissy must have forgotten to button the shirt properly, because she unintentionally exposed a good amount of her right breast to the nosy photographers following her around. Hence these pictures: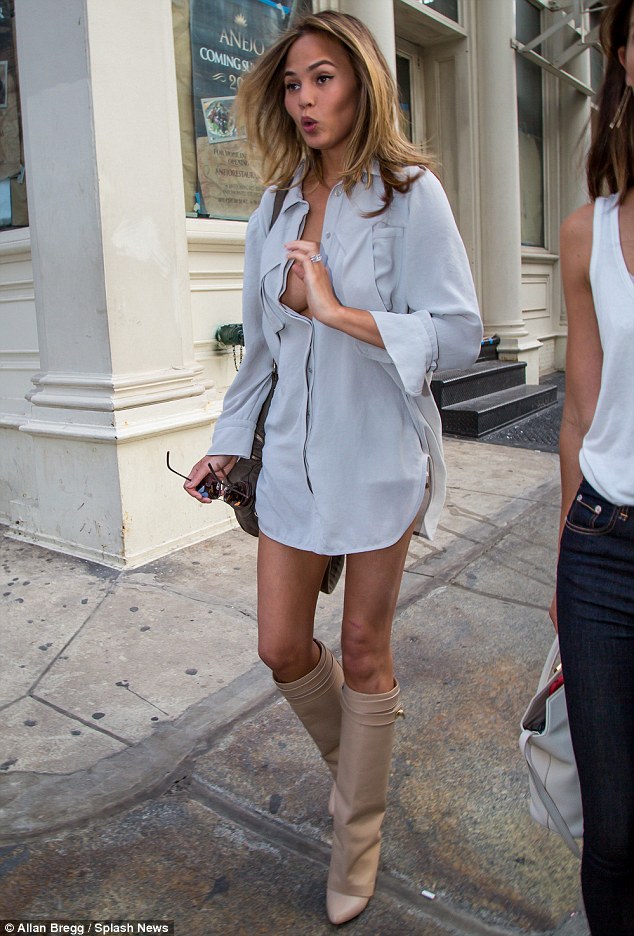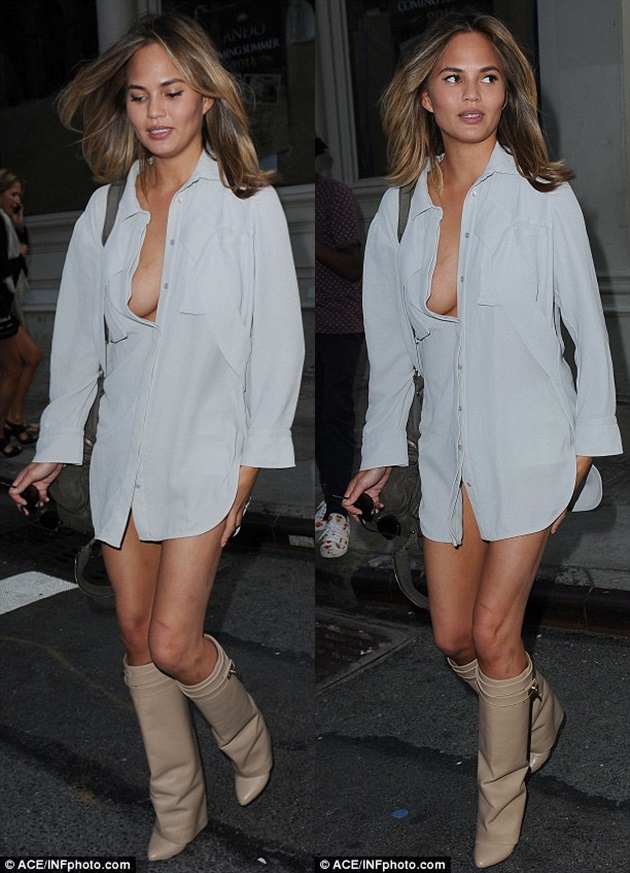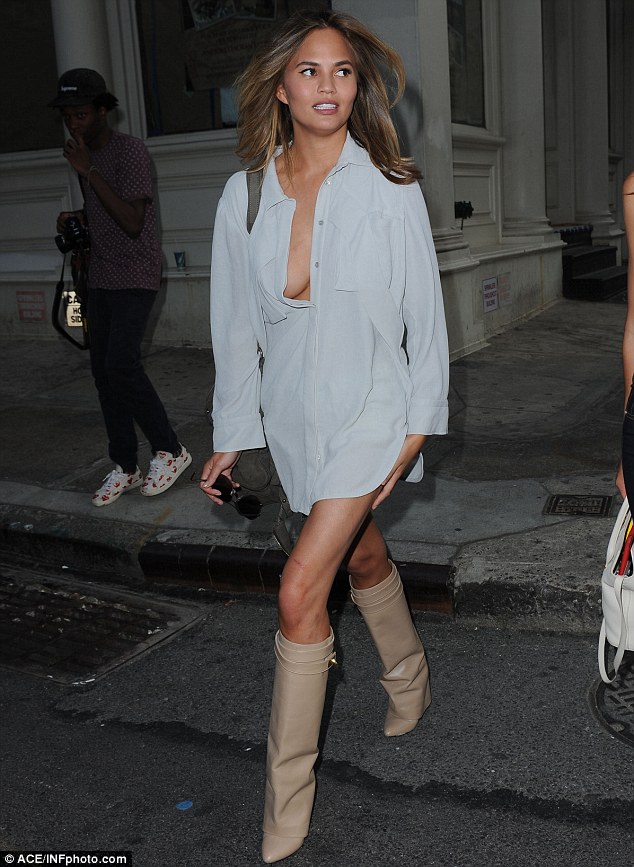 Chrissy Teigen wears a man's shirt with her knee-high boots as she heads to a photo shoot in New York on July 30, 2013
Wowza.
Do you think she really forgot to close up her shirt? Or maybe she was just feeling too warm that day and decided to keep the top button free. What do you think?
You have to admit, while she looks a little naked in the outfit, she's nailing it perfectly — despite the fact that her boots look a little unusual.
Would you wear such a pair with a mini dress or a man's shirt?
It has a boxy silhouette, and can be unflattering to wear if you mix it with the wrong pieces. I did a quick look-up and found out that they're from Givenchy. They're called the "Shark Lock" cuffed knee boots, and while you can't really tell, they actually feature 3.5-inch-tall wedge heels underneath.  Below is a similar pair in gray-green suede: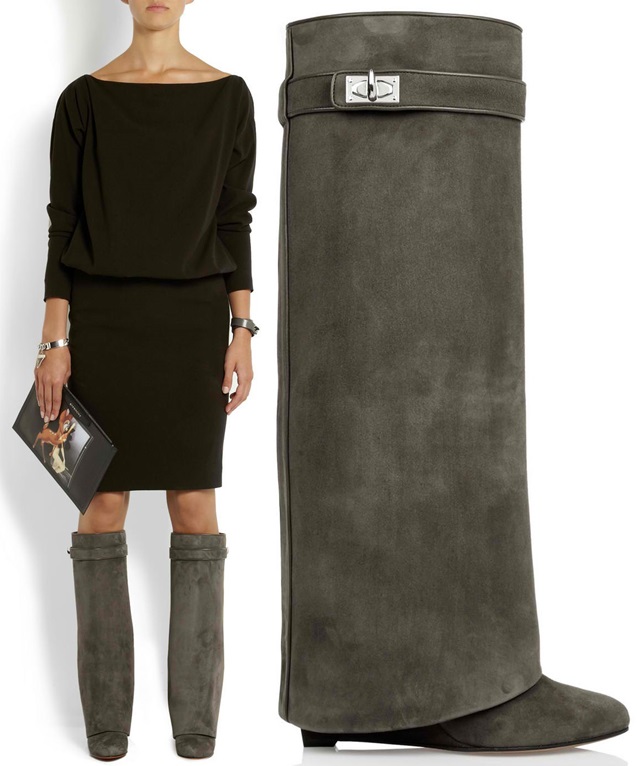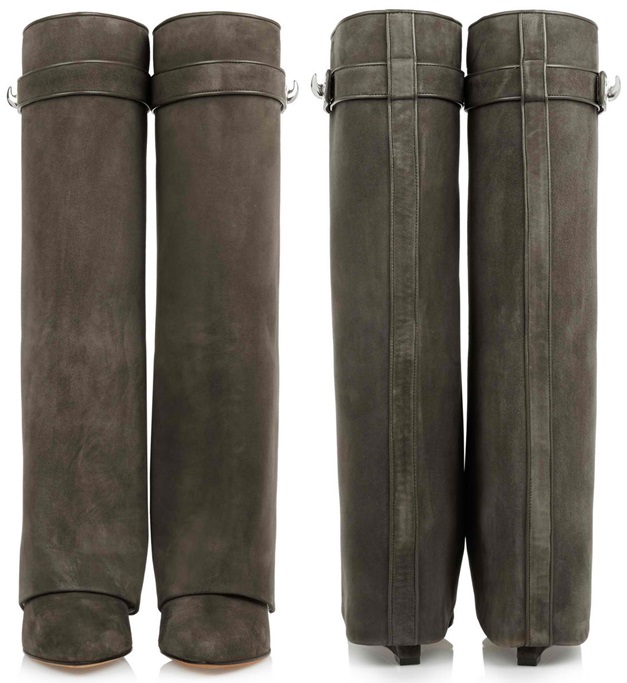 Givenchy Shark Lock Cuffed Knee Boots, $2075
You like?
They retail at a pricey $2075. Yes, that much for a pair of boots. It's insane, I agree. You can find these shoes online if you want a pair. I can't promise you'll be wearing them often because they're not exactly what you would call classic shoes.
Personally, why spend $2000 on boots you can hardly wear when you can grab something more practical like these cuff ankle boots from See by Chloe?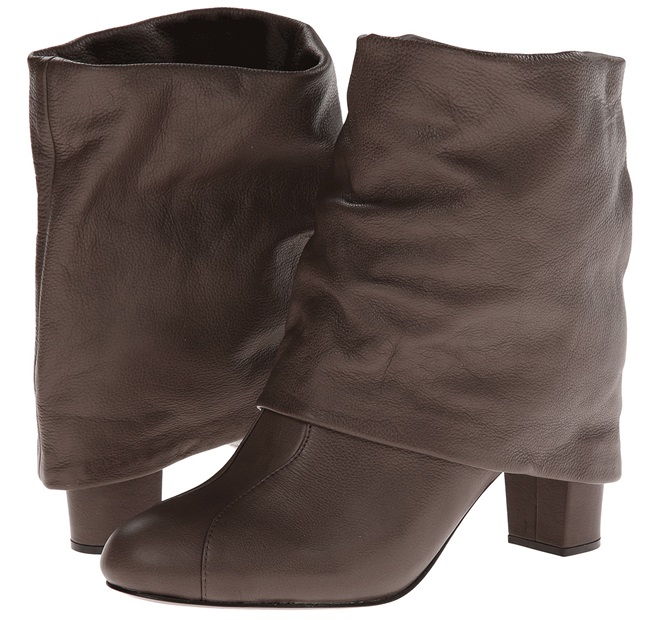 See by Chloe Cuff Ankle Boots, $410
While this pair features foldover cuffs that cover the heels, the design isn't as boxy because it actually follows the shape of your ankles — therefore, a lot more flattering to wear. Will you grab?