It's official. Birks (short for Birkenstock sandals) — or anything that resembles said sandals for that matter, are back. This season, you're supposed to wear them with or without socks — kind of like the good ol' 90s, if you were old enough to rock them then.
I know trends come and go, but I honestly never saw this one coming back for another round. Birks are practical — yes — but they're not exactly sexy. Surprisingly, despite the lack of appeal, these sandals, as well as those Adidas bathroom slippers we saw on the SS14 runway, are getting the red carpet treatment this season. Even high fashion brands are offering their glamorized versions. And as expected, the trend-loving crowd— from bloggers to celebrities — are taking a bite and trying them out.
Cheryl Cole, for that matter, was spotted leaving a salon in LA while decked in a pair of rose-gold versions. She used the sandals  to finish a feminine all-black ensemble. It was an interesting combination, and she was surprisingly able to pull it off. The casualness of the sandals toned down the sexiness of her outfit — which was a good thing considering she just went out for a salon run.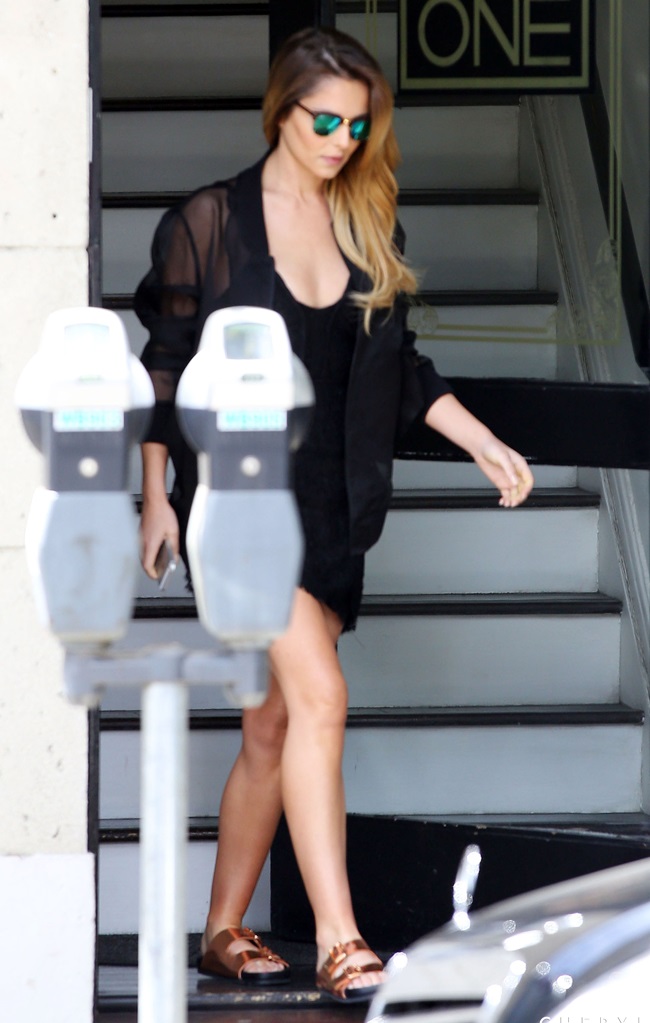 Cheryl Cole leaving Nine Zero One Hair Salon in Los Angeles, May 2, 2014
After a bit of research, I found out that Cheryl's sandals are from Givenchy. Here they are up close and personal for you. They're a lot like your regular Birks, except that they're crafted from metallic rose gold leather, have buckles that are marked with Givenchy on them, and they were produced by shoe artisans in Italy.
Also, unlike Birks, which have soles made out of cork, Cheryl's Givenchy sandals have rubber soles and leather footbeds. Not surprisingly, they also retail as high as Givenchy's other shoes — a whopping $850 a pair.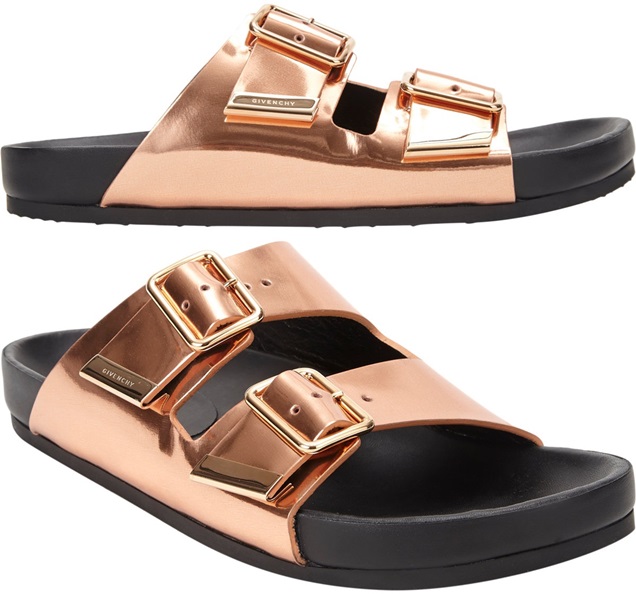 Givenchy Flat Leather Sandals in Rose Gold, $850
Yikes! How can sandals so simple and basic be so expensive, right?
If I were to ask you, how much would you be willing to shell out for the pair? Would you blow $850 like Cheryl did, knowing they're well-crafted and premium? Or would you rather spend half the amount instead, say $425?
If $425 is still too high, then how much would you be willing to spend? Or would you rather just grab yourself some Birkenstock sandals instead? Depending on the style, Birks can run between 90 to $120. Here's a pair worth considering. Pair these with a little black dress to get Cheryl's sexy celebrity-off-duty style:
Birkenstock Catania by Papillio Sandals, $120