Whether Cara Delevingne is constantly on drugs or not, I really don't know. She's quite a naughty girl, so it's hard to tell if the wild antics she pulls off are products of her imagination or of a medication.
At the GQ  Men of the Year Awards held in London on Tuesday, the leggy model arrived at the event in nothing but a sheer lace Burberry dress and a pair of black knickers. While she had on full makeup, Cara decided to skip the bra, and therefore showcased her "girls" to the world. She then teamed the dress with a pair of suede buckled booties that, in my opinion, were the only items that actually deserved a nod of approval.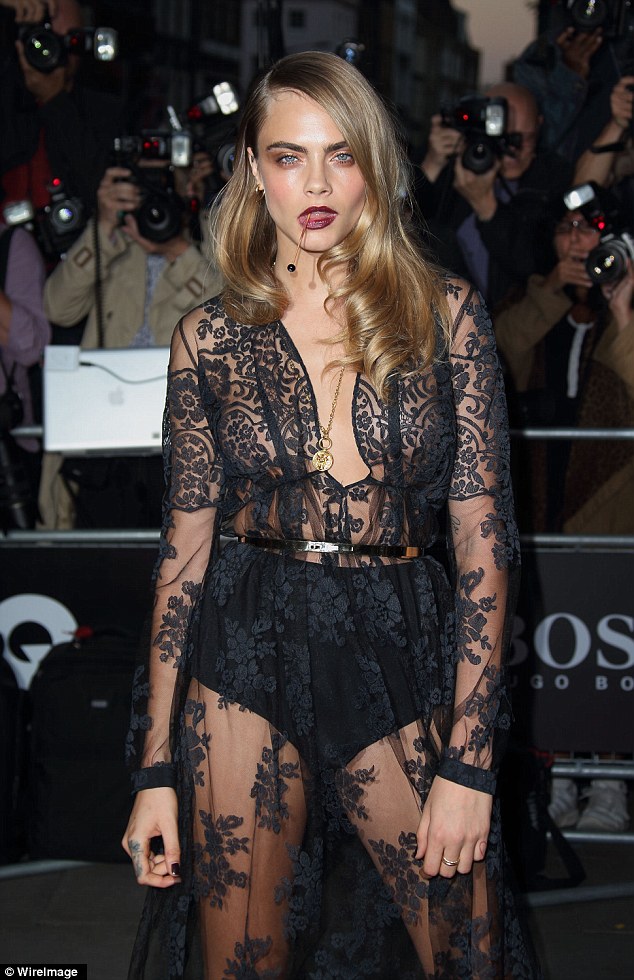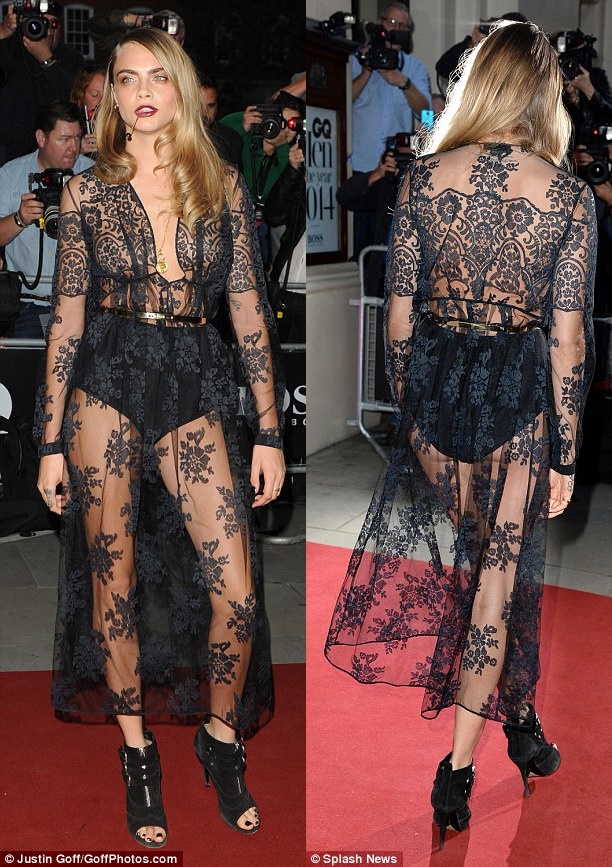 Cara Delevingne wears a sheer Burberry dress for the GQ Men of the Year Awards held in London on September 2, 2014
What do you think of Cara's latest red carpet style? Do you approve or do you think she looks trashy?
You know I think the outfit would have worked had she at least worn something on top. Or better yet, had she worn a bodysuit instead of just panties. Would you agree?
That said, the model also encountered a slight mishap at the event after having one too many drinks. She actually took a tumble while getting too playful with designer Jonathan Saunders. Photographers managed to take pictures of the British blond in a couple of awkward positions. Check them out below: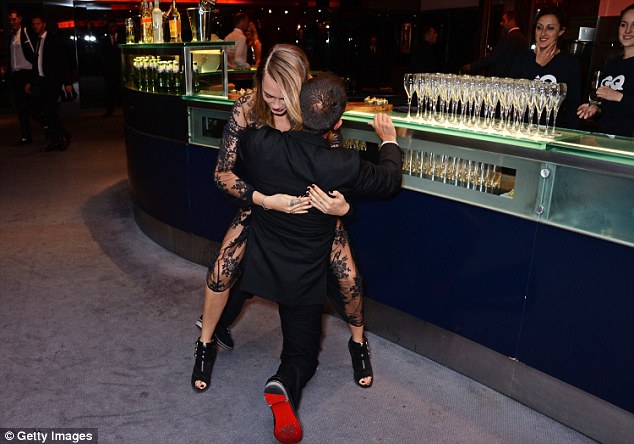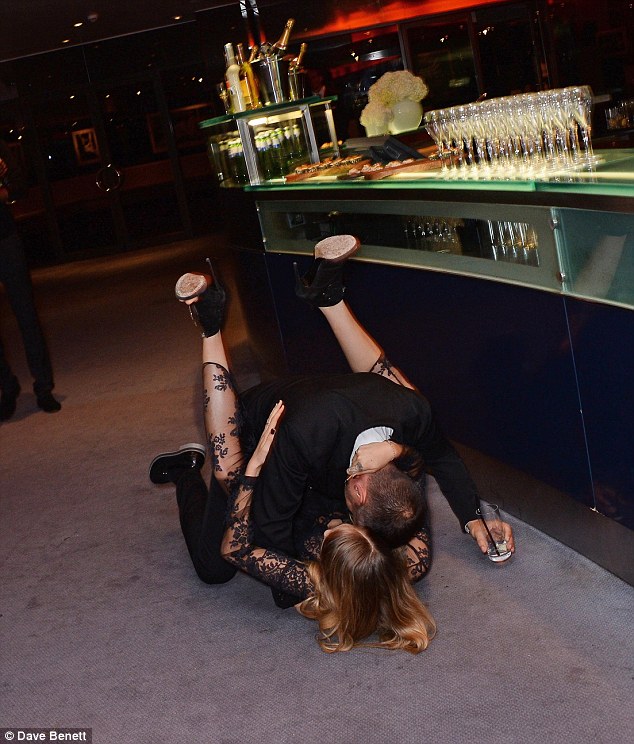 Cara Delevingne stumbles on the floor with Jonathan Saunders while having one too many drinks at the event
Not exactly the best photos of Cara, but you have to hand it to her for being thick enough to actually enjoy the night to her heart's content and not care about what other people would say.
As much as I would like to focus on Cara's misbehavior, I'm actually more interested in her shoes. I tried locating them online but couldn't find any deetz. I'm guessing they're from Burberry, although I couldn't find the style on their site either. Any ideas?
If you fancy them as much as I do, here are a couple of styles you can consider. Both are buckled and feature the peep-toe silhouette. One pair comes with wedge heels and is more expensive, while the other features block heels and is more affordable. Which do you like better?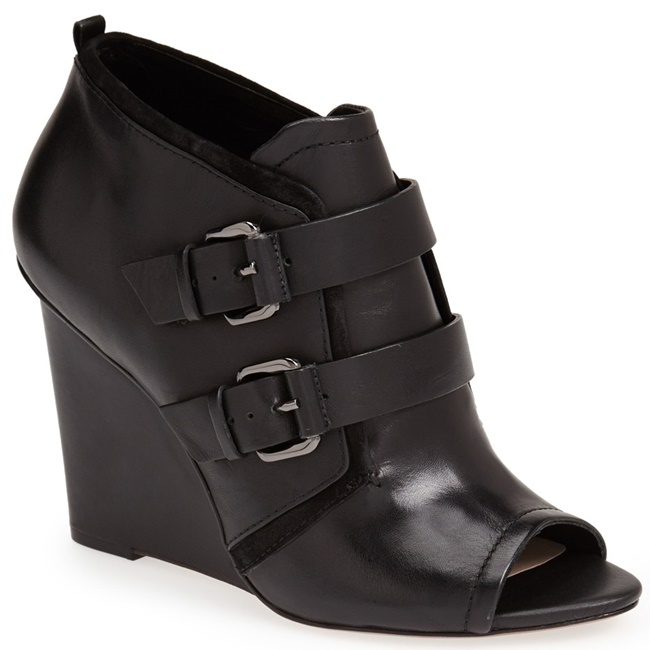 10 Crosby by Derek Lam Zale Peep Toe Wedge Booties, $425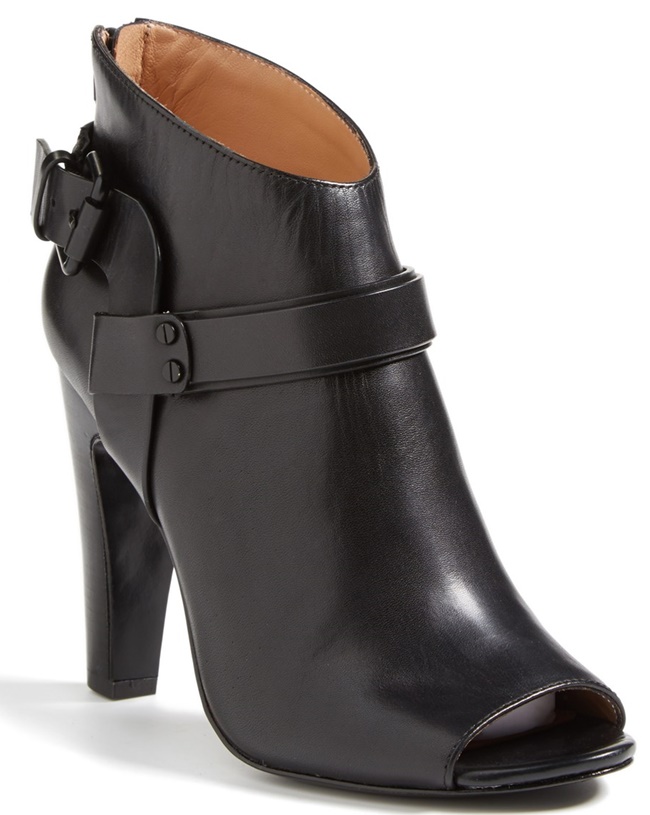 VC Signature Nikoletta Peep Toe Booties, $163 (was $325)