Cameron Diaz was spotted getting a little risqué at the premiere of her new film, The Other Woman, in Los Angeles a few days ago. The actress showed up in a not-so-simple LBD that had an extremely low neckline. The "dip" was significant, but thankfully, it didn't look vulgar because her boobies were, well, kinda small.
I guess you could say having small breasts has its perks. You can rock a plunging neckline and not look like you're headed for the bedroom. Check out Cameron's pictures below then tell me what you think of her dress: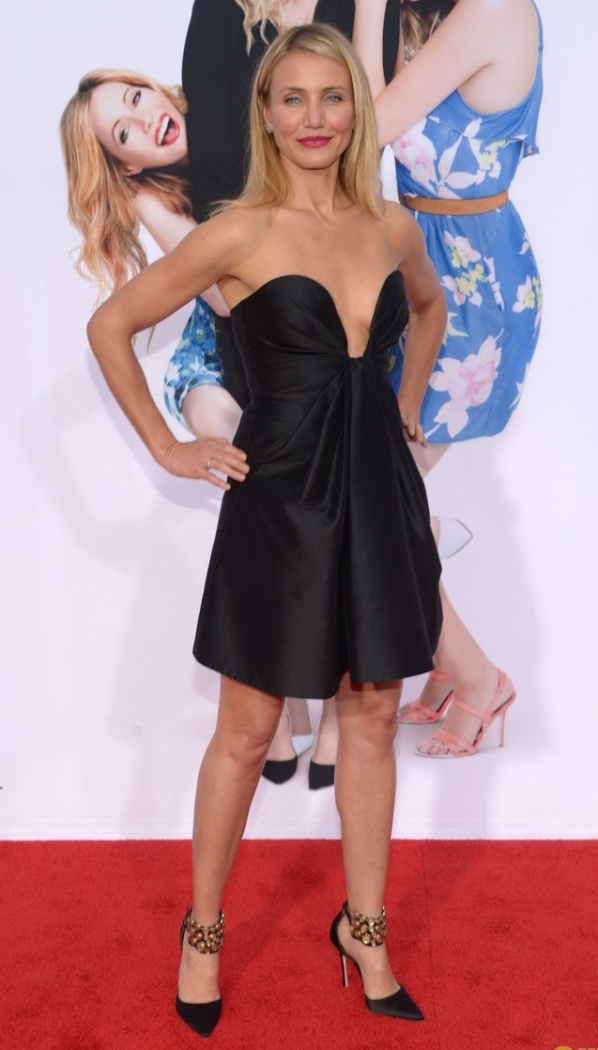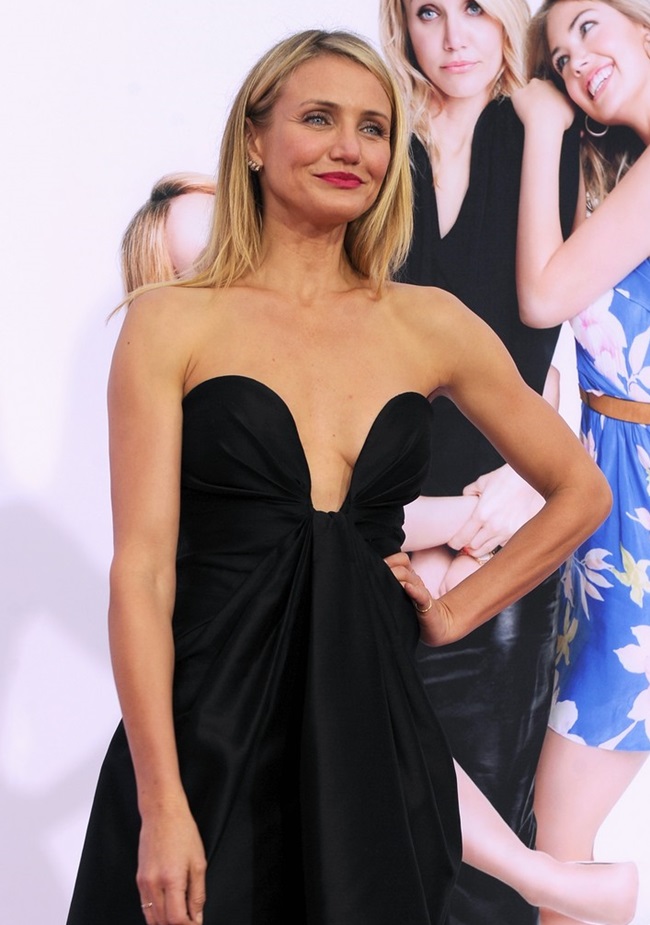 Cameron Diaz attends the premiere of her movie, The Other Woman, in Los Angeles, April 21, 2014
Well, what say you?
I think I prefer Cameron in more figure hugging frocks. The puffy pleated skirt of her dress just doesn't do her body justice. Then again, who will care about the dress when all eyes will be on your boobs, right?
In case you fancy the frock, know that it's from Stella McCartney. Now if I were you, however, I'd be more interested in Cameron's stunning jeweled ankle-wrap pumps. Those are seriously sublime. Don't you think?
Cam's pumps are the "Amatis" embellished ankle-wrap pumps from Manolo Blahnik. They feature pointy toes, satin uppers, a d'Orsay silhouette, 3.5-inch-tall heels, and thick ankle cuffs that are bedecked with crystals. Here's a closer look at the pair: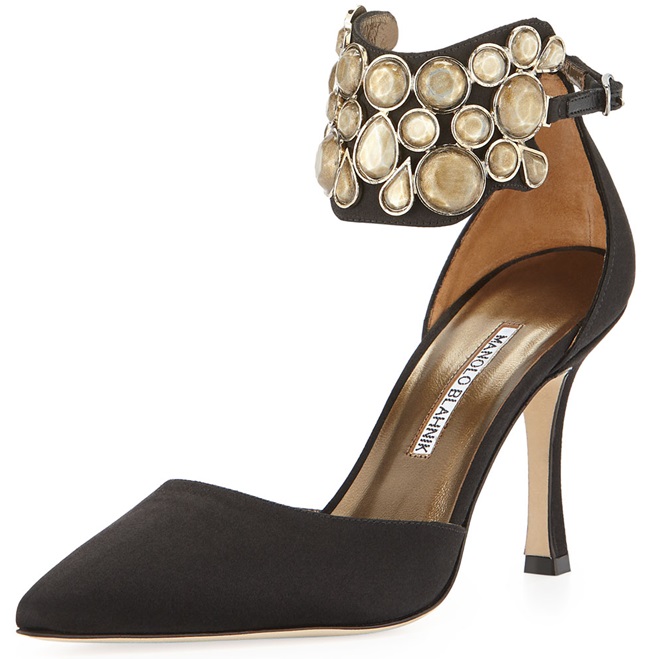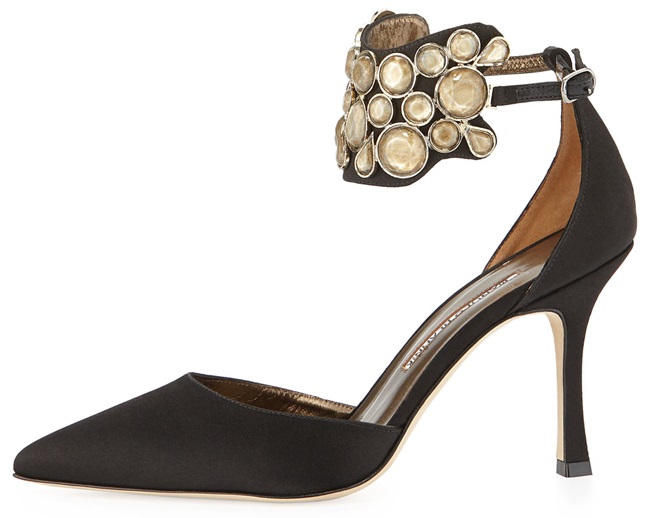 Manolo Blahnik Amatis Embellished Ankle Wrap Pumps, $1,115
You like?
They're exquisite, I agree. But would you be willing to blow off over $1100 for a pair? I wouldn't. You can find the shoes over at Bergdorf Goodman if you would like to give them a go.
For those looking for cheaper alternatives, you can achieve the same look by doing a little bit of D.I.Y. instead. Grab some suede or satin ankle-cuff d'Orsay pumps and some loose round crystals (or rhinestones), then start sticking them on the ankle straps.
If you're too lazy to do the project, here's a pair from L.A.M.B. that may give you the fix. The "Fernley" feature snake-printed uppers and studded multiple ankle straps for that edgy and exotic feel. They don't look as precious as Cam's Manolos, but they're just as striking.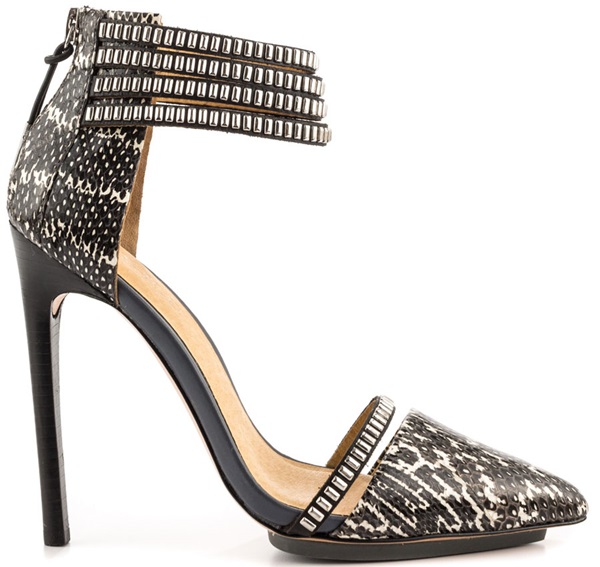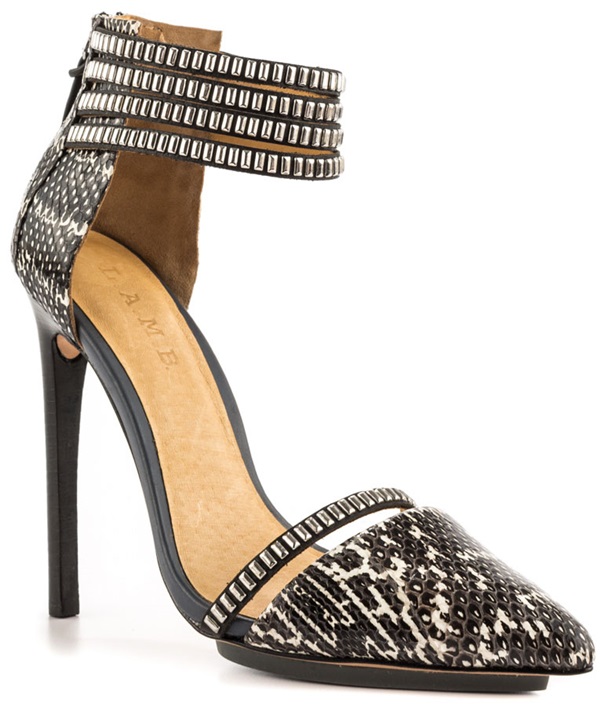 L.A.M.B. Fernley Pumps, $265