How old is Cameron Diaz?
She's 41. Well, at least that's what Google tells me whenever I look up her age. For someone who's over 40, I think she looks fabulous. Would you agree?
Sure, she's not the prettiest face in Hollywood, but her charm and sex appeal more than make up for it. A great example of how Cam is still very much at the top of her game was when the model-turned-actress presented at the 2014 MTV Movie Awards last Sunday. She, along with Leslie Mann, Kate Upton, and female rapper, Nicki Minaj presented the popcorn for Best Male Performance, and I must say, Cameron not only gave much younger Kate and Nicki a run for their money in the looking-good department, but among the four of them, she really stood out thanks to her statuesque frame, form-fitting outfit (from Stella McCartney), and ultra-stunning heels.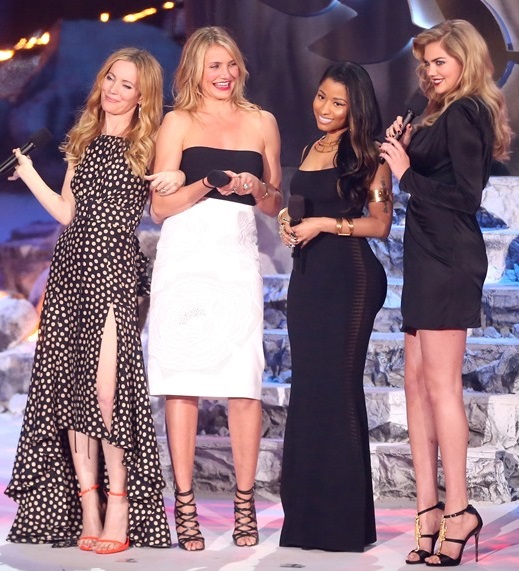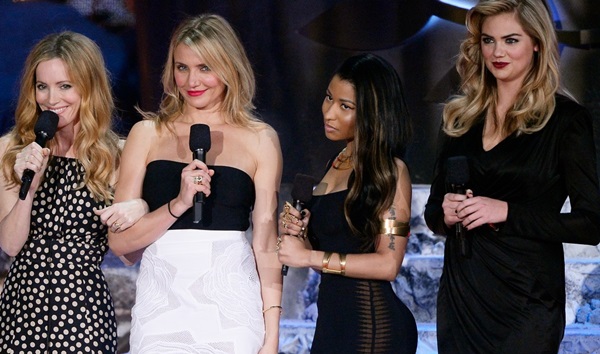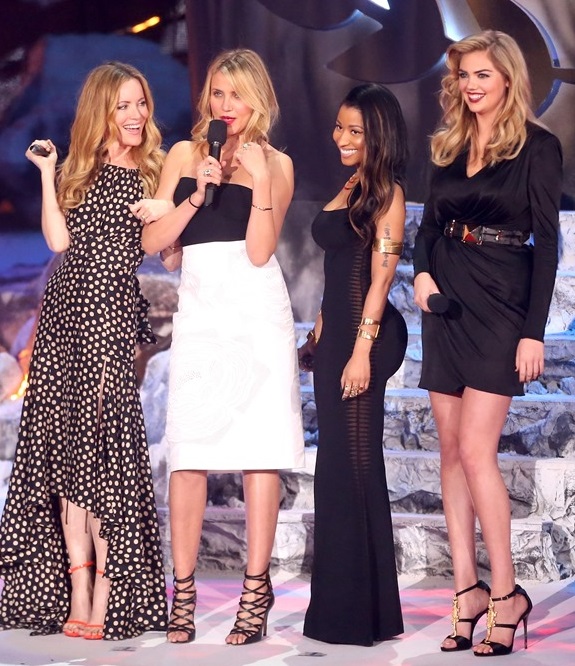 Cameron Diaz, Leslie Mann, Nicki Minaj, and Kate Upton present the award for Best Male Performance at the 2014 MTV Movie Awards, April 13, 2014
Cameron's strappy sandals were gorgeous. Sure, Kate Upton's gold-detailed t-straps from Giuseppe Zanotti looked super glam, but Cameron's heels were head turning — just the kind you will immediately notice at first glance.
Below is a closer look at the pair for you. They're from Isabel Marant, and the designer has dubbed these sandals as the "Paw". They're crafted from calfskin leather material and feature multiple criss-cross straps that are uniquely jagged at the edges. These shoes also sit on 4-inch tall heels so they're moderately high. If you're interested, you can find the "Paw" online (try Barneys). A pair will cost you a hefty $1035.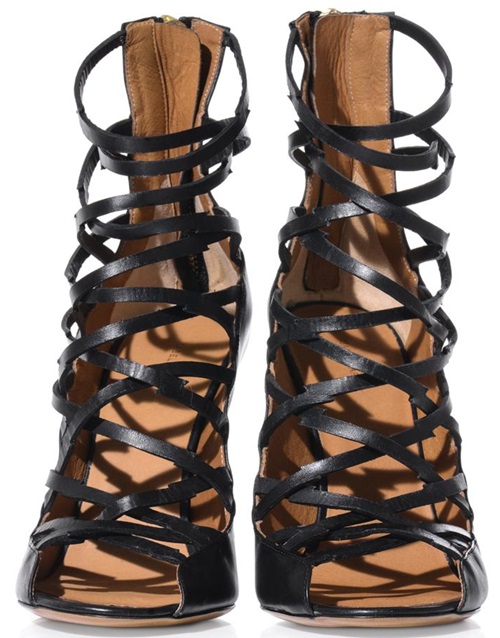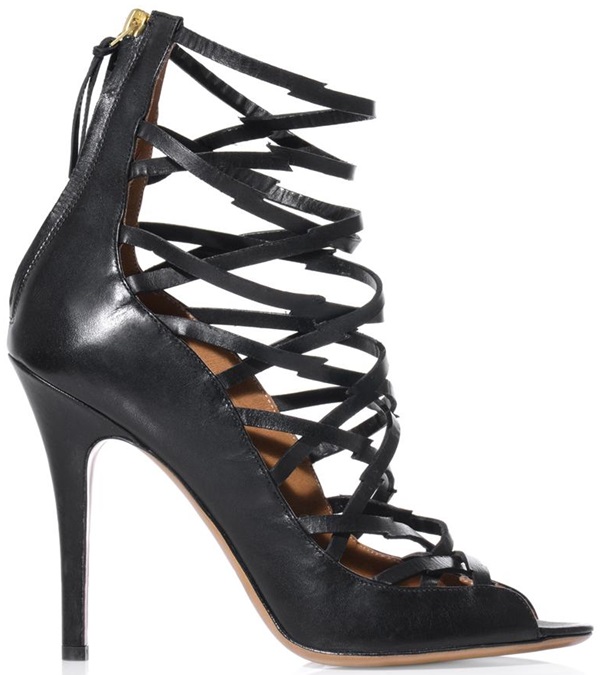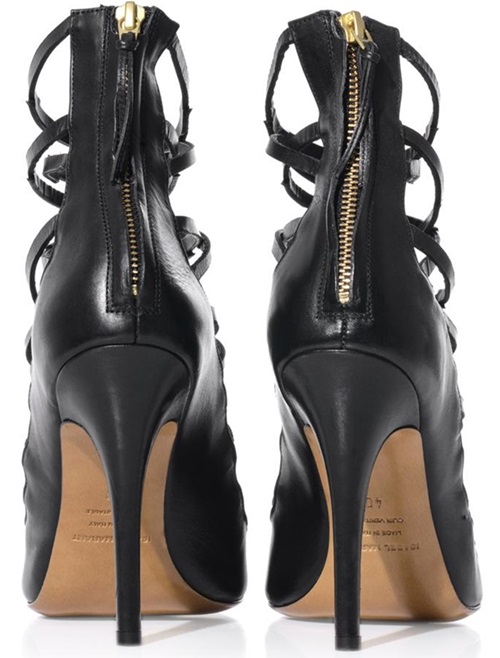 Isabel Marant Paw Strappy Leather Sandals, $1035
They're quite pricey, but if you're used to blowing off hundreds or thousands of dollars on designer goods, then feel free to grab 'em in your size.
For the fashion-savvy frugalistas, here are some great alternatives from L.AM.B. that won't make you feel so guilty about spending for them. The "Flower" sandals feature the same strappy silhouette as Cameron's Isabel Marant footwear. These substitutes also stand about 4 inches tall. However, they're not as expensive, since you will only need to spend $245 to own a pair. Will you grab?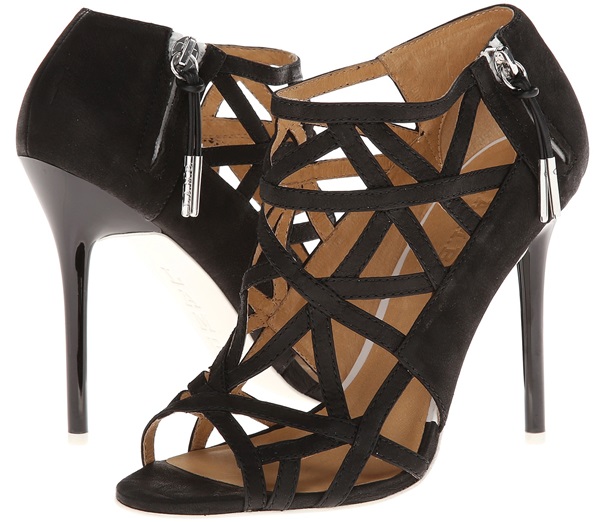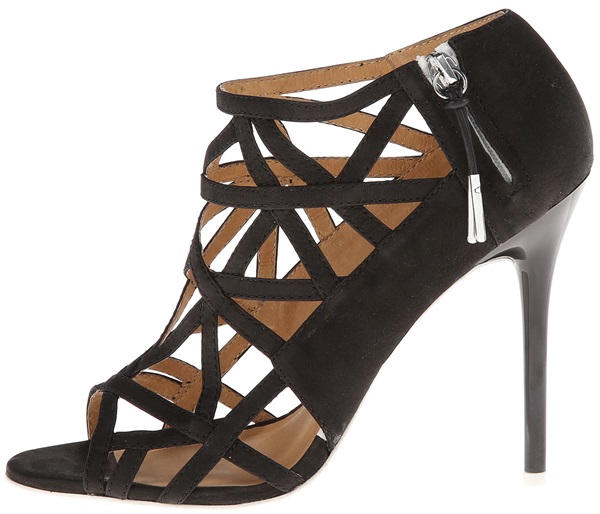 L.A.M.B. Flower Sandals, $245