Maybe she got tired of wearing frumpy dresses for her red carpet appearances because Cameron Diaz certainly stepped up her fashion game when she attended the 2014 ESPYs held at Nokia Theater last Wednesday evening (July 16).
For the occasion, the blond actress chose a tea-length black frock detailed with a plunging neckline. It was a dress that was downright revealing on top, and she complemented it nicely with loose tousled tresses for that sultry and sexy vibe. Punctuating her look were a pair of uber gorgeous strappy sandals detailed with studs. Needless to say, Cameron looked perfect for the event, and it was literally impossible to find any fault in her whole getup.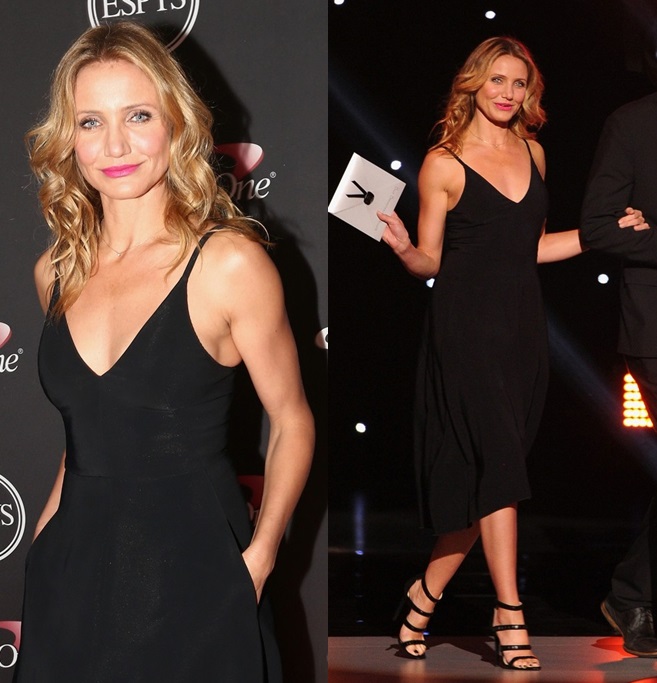 Cameron Diaz looks sexy in a plunging knee-length black dress as she attends the 2014 ESPYs held at the Nokia Theater in Los Angeles, July 16, 2014
Doesn't she look amazing? The outfit is a far cry from the Vionnet dress she wore a few days ago. I mean, it looks so much better. Would you agree?
I know it's hard to see her gorgeous shoes from these pictures, so here's a closer look at Cam's sandals from last Wednesday night. They're from Prada, and dare I say, they look perfect.
Prada Studded Suede Sandals, $1100
They're sexy, edgy, and sophisticated. Need I say anything more?
Cameron's Prada sandals are crafted from suede leather uppers that are decorated with matte angular studs at the straps. The heels on these shoes are 4.5 inches tall so they are a bit high. If you like what you see here, just head on over to SAKS and order yourself a pair.
For those on a budget, I'm sorry I couldn't find a similar style with a cheaper price tag. However, allow me to leave you with these options from Cesare Paciotti instead. These sandals are also studded, but they are a bit more complicated in terms of design. However, I think they are just as fancy too. Besides, these retail at about half of the amount you will spend on the Prada shoes, so they are worth considering.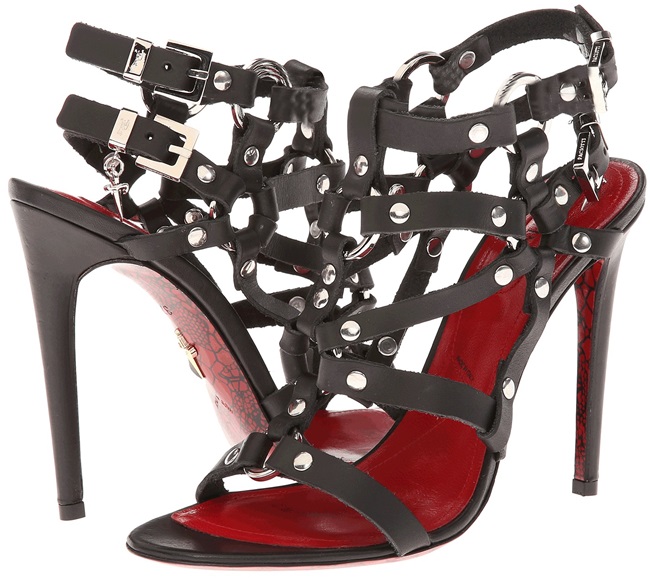 Cesare Paciotti Studded Sandals, $486 (was $810)