Among the young stars making it big in Hollywood right now, Bella Thorne is the one I find most beautiful. While she is actually a natural blond (yes, she is), she looks insanely good with red hair too.  Of course, the fact that she has a drop-dead gorgeous body and looks good in practically any outfit makes her even more fascinating to fans, boys, and fashion critics.
Bella broke up with her boyfriend recently. But it seems it didn't take long for her to move on and find someone new to hang out with. On Thursday, the actress was spotted cozying up to her hair stylist, Castillo, while in Los Angeles. For the outing, Bella went for an edgy attire consisting of a black lace-trimmed top, dark eyewear, patterned pants, and sleek mid-calf boots detailed with cutouts at the heels. No doubt about it, she looked insanely good in her outfit.
Check out Bella and Castillo below and see if there's really anything going on between the two: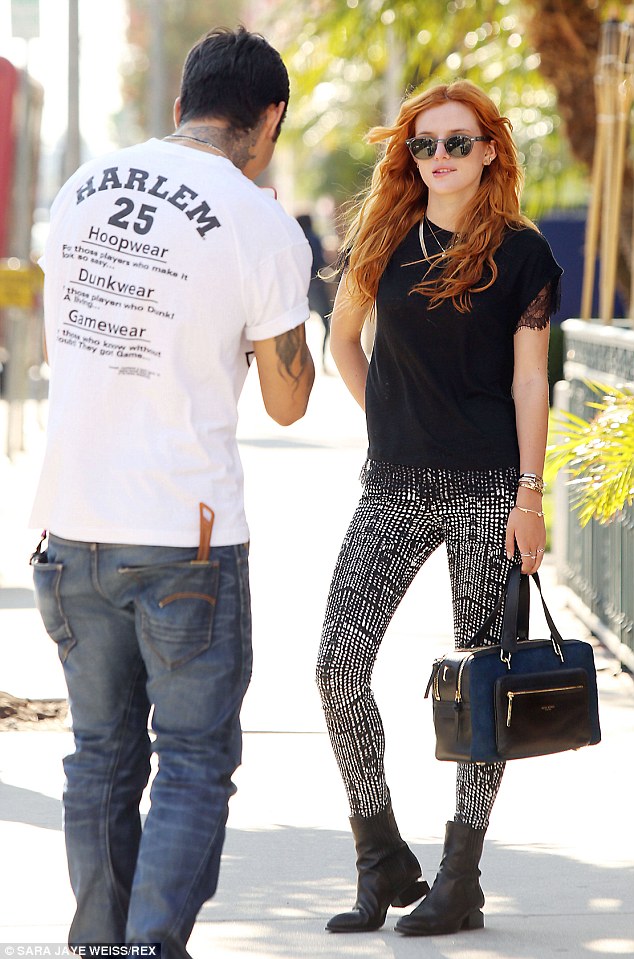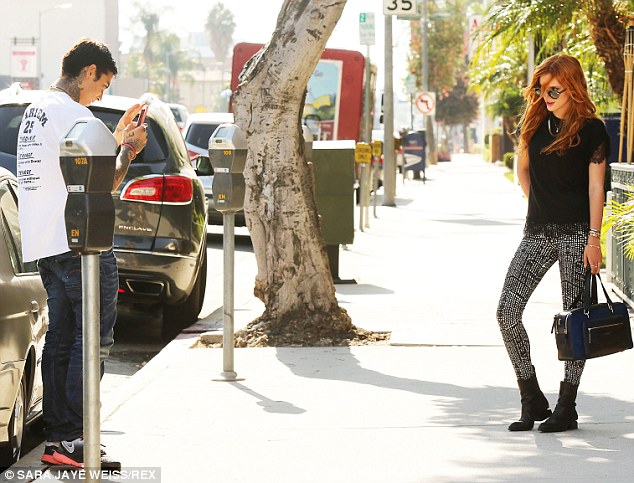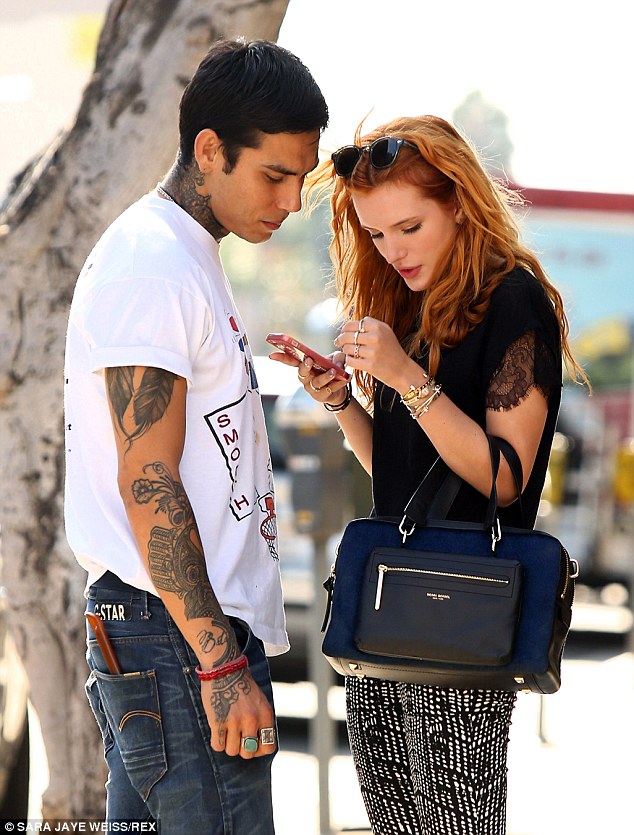 Bella Thorne and her hair stylist, Castillo, hang out in Los Angeles on Thursday, August 28, 2014
Well, what do you think? Are these two hooking up, or no?
I wouldn't be surprised if Castillo is into her. Bella is quite stunning. I also love the outfit she put together here. It's a little unusual, thanks to the top and printed pants.
For the ladies who want her printed bottoms, here's the info for you — The Looker. They're called "Mother" print leggings, and you can score them for a discounted $138 at Revolve Clothing: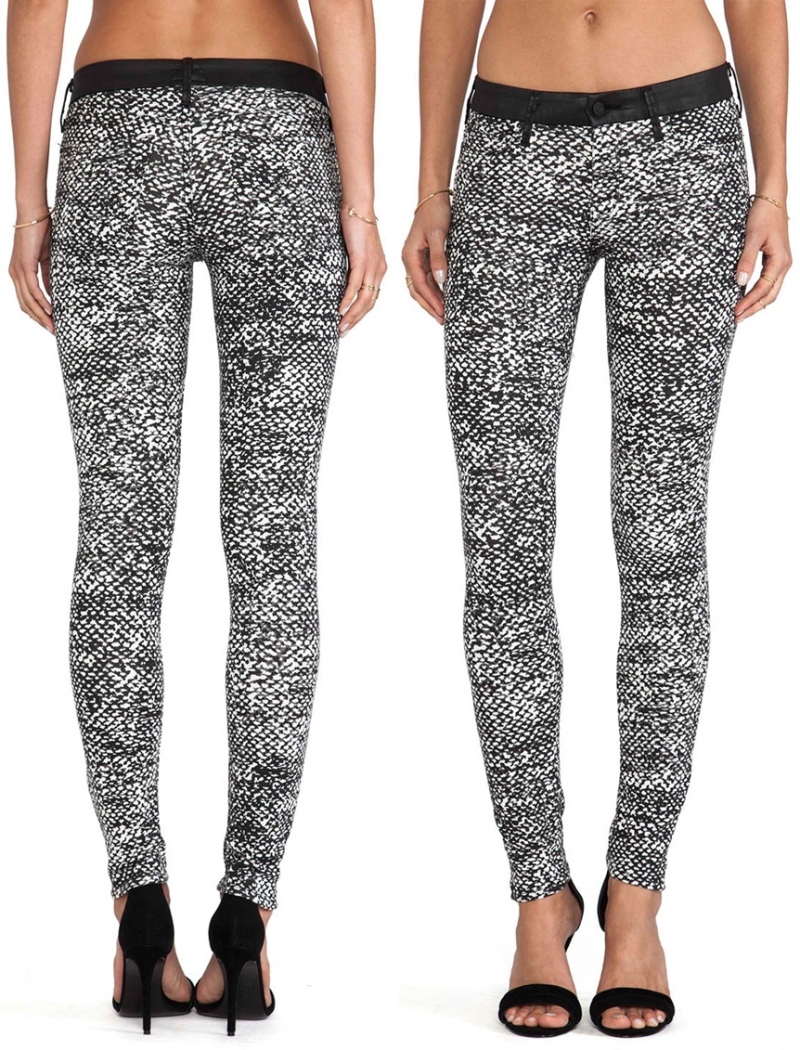 The Looker Mother Print Leggings, $138 (was $196)
I don't know where she scored her top, but you can easily find a similar one from your local department store or favorite online store.
As for Bella's boots, those are from Alexander Wang. They're quite easy to spot, especially with Wang's signature cutout heels. Dubbed the "Anouck Chelsea", these boots feature topstitched panel on the sides, 6.5-inch-tall shafts, and 1.25-inch-tall heels with cutouts at the counters: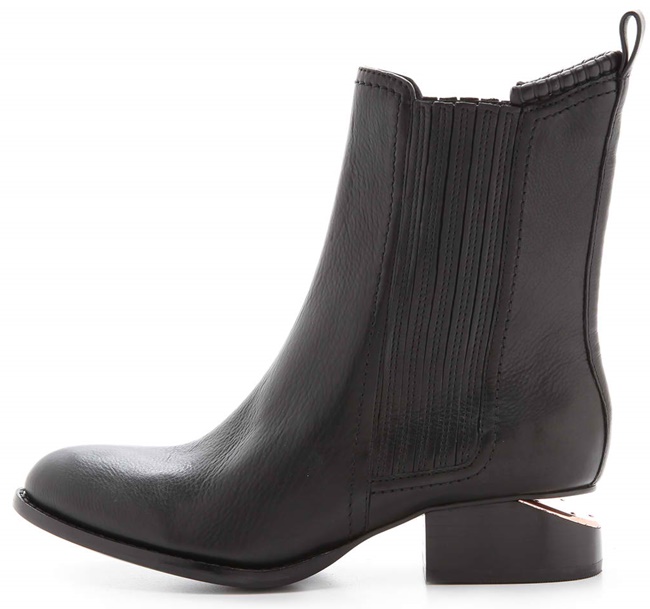 Alexander Wang Anouck Chelsea Boots, $620
You like?
You can find these boots over at Shopbop. They cost a pricey $620. Not exactly cheap, but they look really edgy and cool to wear. I couldn't find anything similar so you'll need to wait for a sale to get them on discount.