Balenciaga Shoes For Women
Balenciaga is a luxury fashion house founded in Spain by Cristóbal Balenciaga, a Spanish designer. He is known for feminine and ultra-modern shapes. He had a reputation as a couturier of uncompromising standards and was referred to as "the master of us all" by Christian Dior.
From the end of the 20th century and till the present, the brand has cooperated with three creative directors: Nicolas Ghesquière, Alexander Wang, Demna Gvasalia.
In 2018, the sneaker trend is extremely popular and Balenciaga has debuted with a shoe that looks to be more of a technical, chunky running silhouette that reminds slightly of old school Mizuno sneakers, with some early 2000s skate footwear influences mixed in.
Thus, thick-soled and highly detailed sneakers keep selling out and they are the major trend in 2018. However, there are other Balenciaga sneakers that are chosen by women for a unique combination of style and comfort they offer.
Balenciaga Sneakers
Balenciaga sneakers are on the rise. Kendall Jenner and Gigi Hadid rocked the look with Balenciaga shoes and other street stylers wore them too. There's a huge demand for these shoes and let's see what's special about them.
      1.Triple S leather and suede shoe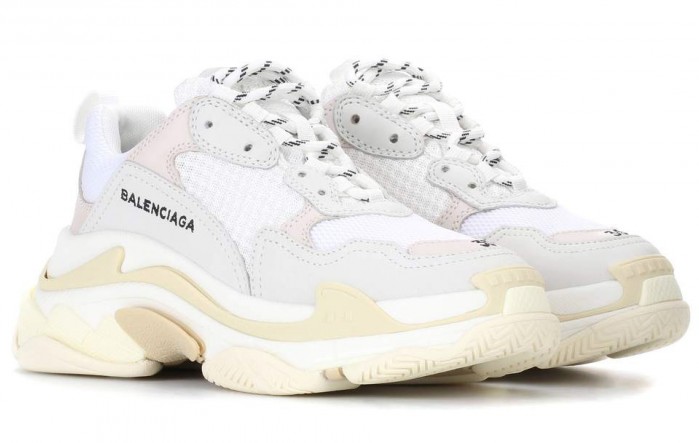 https://www.mytheresa.com/euro_en/balenciaga-triple-s-sneakers-881393.html?catref=category
Of course, the iconic model, which sells out all around the world immediately is a Triple S leather and suede shoe. This low sneaker was released in 2017 and it's been spotted on Bella Hadid, Gigi Hadid, Kendall Jenner, Hailey Baldwin. The shoe features a white leather in the upper, a layered sole, which measures approximately 60mm. You can wear these shoes with everything from jeans to skirts and dresses. Today, there is a sought-after trend – a return to the 90's, thus, this model is an indispensable item in your wardrobe.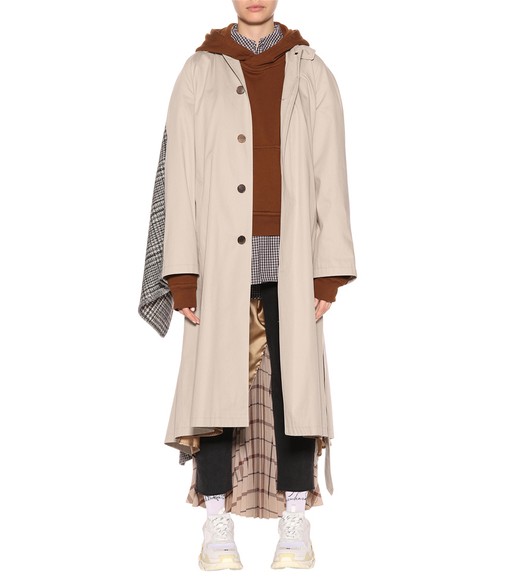 https://www.mytheresa.com/euro_en/balenciaga-triple-s-sneakers-881393.html?catref=category
      2. Speed trainers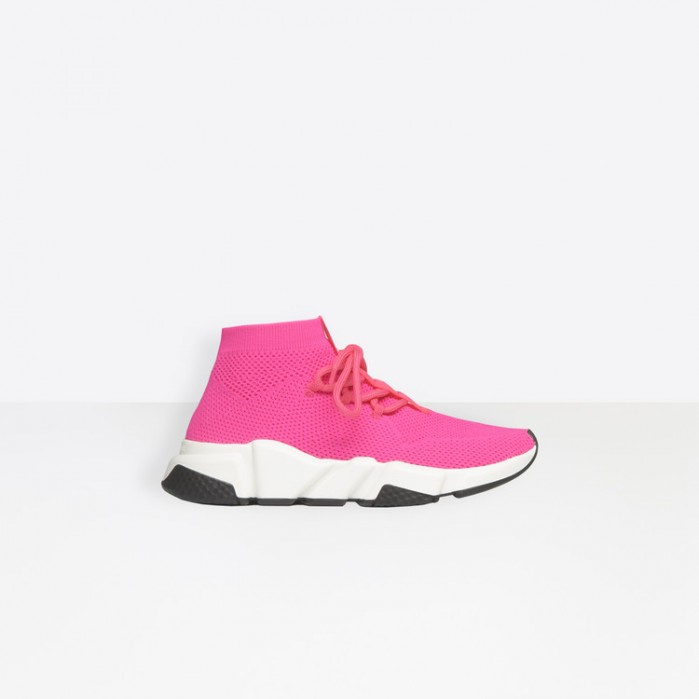 https://www.balenciaga.com/us/speed-shoes_cod11425805ah.html#/us/women/sneakers
This lightweight shoe features an appealing design. The model comes in several colors – both vivid and neutral. The shoe has a stretch structured knit sock effect and a contrasting textured sole. Also, it has a memory and shock absorbing technologies. Thanks to its offbeat design, the shoe may serve as a zest of your outfit or complement an extravagant look you choose. Shorts, skirts, jeans – everything will look bold with these shoes.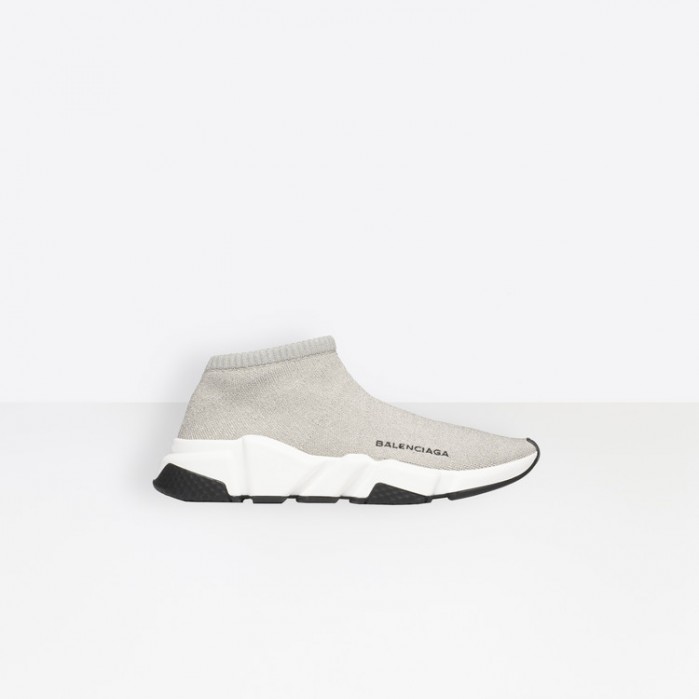 https://www.balenciaga.com/us/speed-shoes_cod11392978iv.html#/us/women/sneakers
A sporty style has gone far beyond a gym and this model may be worn for different occasions. A laceless lurex knit sock with a Balenciaga logo and a monochrome textured sole looks impressive. But aside from looking stylish, the shoe is still comfortable because it features shock absorbing and memory sole technologies.
You can team them will pleated skirts, midi skirts, dresses, pants, miniskirts of all textures and colors. With a classic grey color, it is almost impossible to go wrong!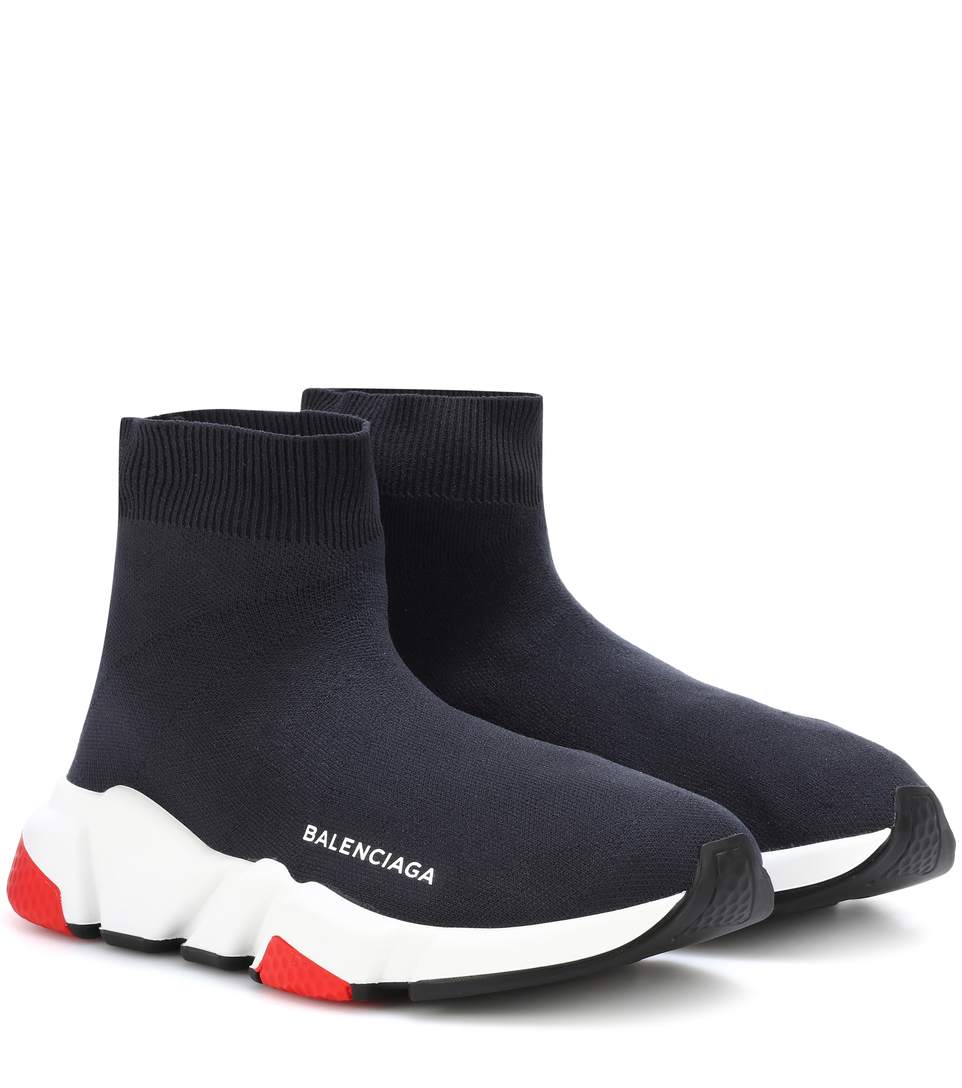 https://www.balenciaga.com/us/speed-shoes_cod11392979fn.html#/us/women/sneakers
This knit sock shoe looks plain yet elegant. The upper doesn't have any additional details except for a BB logo on the ankle, on the side, and on the sole. A black color always looks appropriate and a contrasting white outsole with red details catches an eye.
Whether it is combined with casual, business casual, festive, and even official attire, the shoe always adds chic to the overall ensemble.
https://www.mytheresa.com/euro_en/balenciaga-speed-trainer-sneakers-981902.html?catref=category
         3. Race runners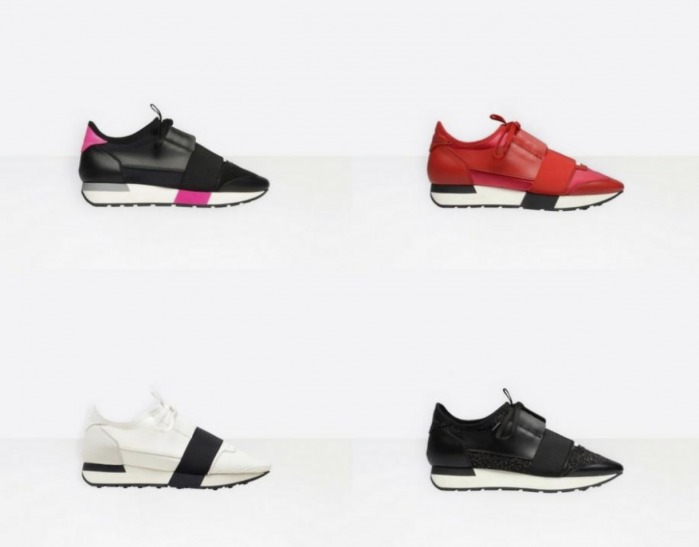 Balenciaga race runners feature a unique mix of laconism, functionality, and chic. Balenciaga shoes come in different colors: black, white, silver, red, and some models feature colorful accents. The shoes have an elastic band in front, tone-on-tone shoelace, elastic and loop. The only difference between them is the materials used in the upper. Thus, models in a white color and black and pink colors have a multi-materials effect: mesh, patent calfskin, calfskin and neoprene, a red version features a satin & smooth calfskin upper, and black and white sneakers have mesh, calfskin, and neoprene materials in the upper.
The outfit combinations with these sneakers are almost endless: shorts or a skirt paired with a blouse, crop top, a plain tee are perfectly combined with Balenciaga race runners. However, the look will be truly amazing if you combine your footwear with different types of pants: straight, skinny, flare, cargo, wide leg are the options you can choose. Add a statement necklace, a beautiful scarf or bold sunglasses and your look with these sneakers will become more sophisticated. Also, don't forget that layering is still in demand, so add more layers and rock the look with these sneakers.
https://www.mytheresa.com/euro_en/balenciaga-race-runner-leather-sneakers-906586.html?catref=category
     4. Low sneakers
This model has been inspired by the Arena leather handbag line. It comes in 4 d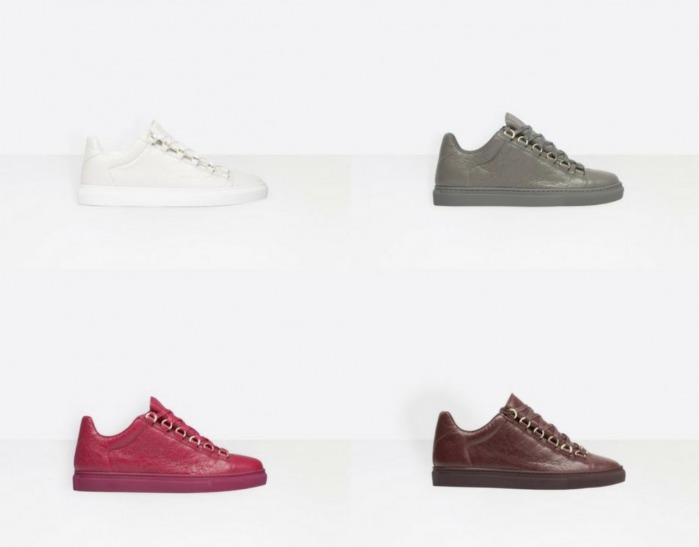 ifferent colors which will satisfy even the most exquisite taste. Made of 100% lambskin, the shoe features a tone-on-tone rubber outer sole and tone-on-tone laces. The shoe looks very stylish thanks to its minimalistic appearance.
When it comes to styling, the possibilities are numerous here. If you like a sporty look, then a pair of sneakers will add a pop of color to a monochrome outfit with black leggings, a white or a black tee, and a dark sweater. If you want to look more polished, you may wear a knee-length skirt, an oversized blouse with a blazer, a scarf, and these low sneakers will top off your ensemble. On top of that, the outfit with Balenciaga shoes may be your win-win option for a date! Just choose a midi dress, statement jewelry and low sneakers that will not only make you feel comfortable but also add a touch of romance to your look.
https://www.mytheresa.com/euro_en/000895-arena-leather-sneakers-795258.html?catref=category
   5. High sneakers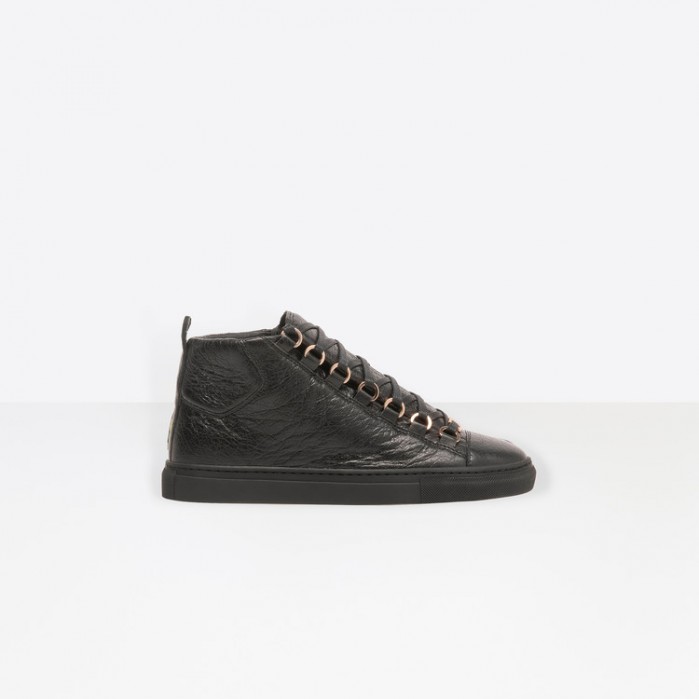 https://www.balenciaga.com/us/arena-sneakers_cod11416279eb.html#/us/women/sneakers
These lambskin sneakers with one-on-tone laces and a rubber sole will let you feel comfortable without needing to sacrifice your style. Fashionistas all around the world love combining high sneakers with casual and festive clothes. In fact, there are countless ways to style these shoes.
If you love high-tops, you can wear them at any time of the year. In summer, pair the shoes with a summer dress or shorts and a tee. In the fall, these sneakers can replace ankle boots. You'll look flawless if you combine them with a T-shirt and jeans or with a dress. In spring, you can wear them in a sophisticated way and couple the shoes with a long-layered dress.
Thus, Balenciaga shoes are a perfect option for all those women, who like combining comfort and style. However, they aren't the only solution you have. There are many other sneakers such as http://thecrossfitshoes.com/nike-lunarglide-9-review, which are also comfortable and stylish. All you should do is to find the variant, which fits perfectly your budget and style.