One up-and-coming star worth stalking for her impeccable fashion sense is Ashley Madekwe. The British-born beauty, who played the role of Ashley Davenport (2011-2013) in the hit drama series, Revenge, just knows how to ace it on and off the red carpet. Her blog, Ring My Bell, is a testament to that. It's an online fashion diary of sorts, and when you visit it, I guarantee, you won't be able to stop scrolling through the website. You'll get page after page after page of super chic outfits that are put together with just the right amount of edge and flair. Come to think, I bet she doesn't employ a stylist whenever she shows up at events, because she really doesn't need one!
Anyways, it seems Ashley went back to her hometown for London Fashion Week this week. I guess she couldn't help herself. I mean, the girl literally looks like she lives and breathes style (or style runs through her veins, would be another way to put it).
I loved the look she put together for the Burberry Prorsum show, which happened recently. It was sleek, sophisticated, and completely elegant. She didn't over-decorate herself, which was good. She kept her outfit simple, but with high impact.
For the event, Ashley wore a below-the-knee black dress worn with an edgy leather jacket (for that tough chick flavor). To add sass to the look, she used a bright red purse to go with, then finished the ensemble with classic gold-detailed ankle-strap sandals. Also, I loved the make-up she wore to complement the outfit. It was pristine and barely there, save for the rich red lipstick that matched her purse. She also kept her hair in a neat pony. Altogether, I think Ashley scored a perfect hit with the outfit.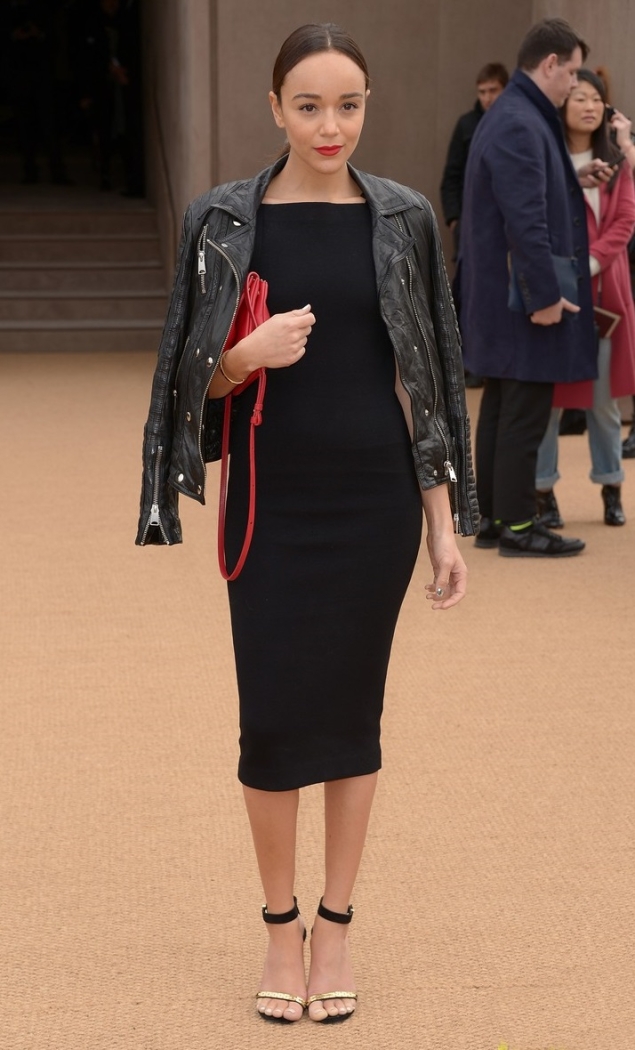 Ashley Madekwe attends the Fall 2014 Burberry Prorsum presentation during  London Fashion Week, February 17, 2014
Doesn't she look stunning? Would you like to steal her style?
You actually can, and you don't have to spend a truckload of money to do it. I know her jacket is from Burberry, but all the other pieces in her outfit are still a bit of a mystery. The sandals, in particular, are hard to recognize. I'm thinking they look like something from Saint Laurent, though I'm not entirely quite sure. But for the purpose of channeling her outfit without breaking the bank, may I suggest a very affordable replacement? Check out the Steve Madden Realov: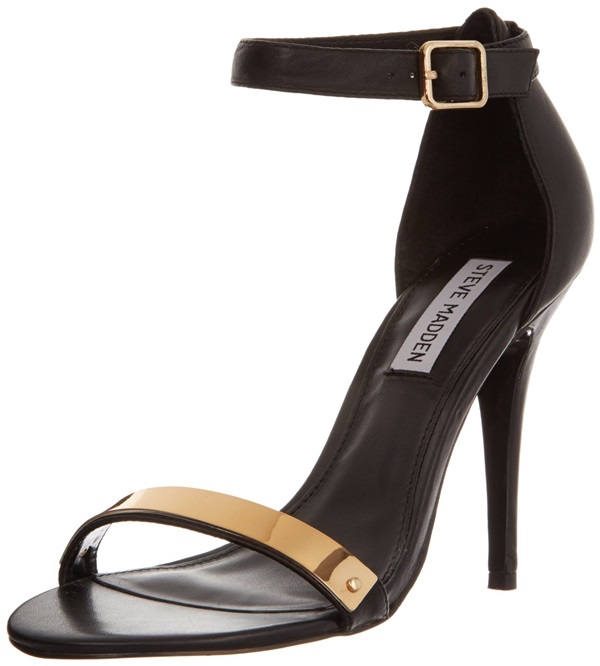 Steve Madden Realov Sandals, $95 ($100)
Wear these sandals with a form-fitting black dress that falls below the knees and a black faux leather jacket. For finishing touches, keep you hair neat in a pony, wear red lipstick, and don't forget that matching red purse for the full effect. Here's a combination I put together using some can-afford items: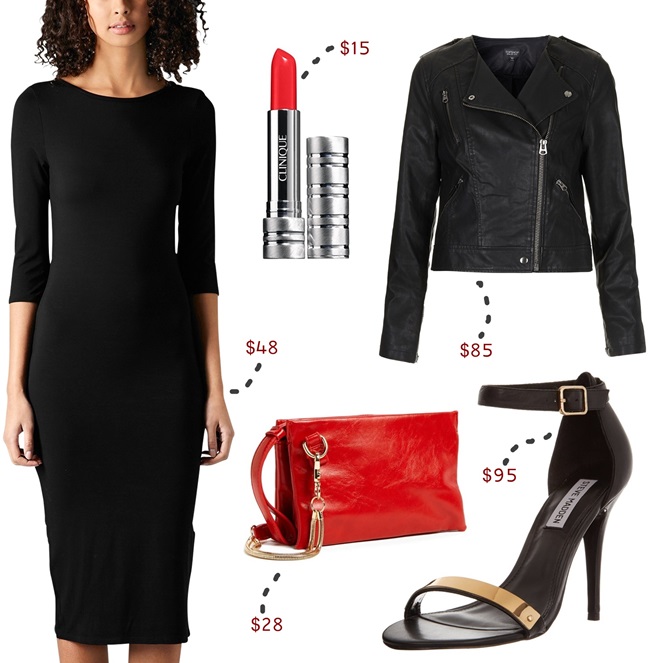 Dress: Topshop Scoop Back Jersey Body-con Dress / Purse: Poverty Flats by Rian Convertible Crossbody / Lipstick: Clinique High Impact Color in Peach Pop / Jacket: Topshop Mirabelle Faux Leather Biker Jacket
So are you ready to rock Ashley's look?