It's official, Angelina Jolie is now Mrs. Brad Pitt. The actress wed her long-time partner at Château Miraval in the village of Correns in France last Saturday (August 23).
I haven't found any deetz on what gown she wore for the ceremony, but what info I can give you is that there were only 22 people in the guest list, and their kids were all part of the entourage. The most beautiful woman on the planet walked down the aisle with her sons Maddox and Pax, while Zahara and Shiloh threw the petals. Vivienne and Knox were reportedly the ring bearers.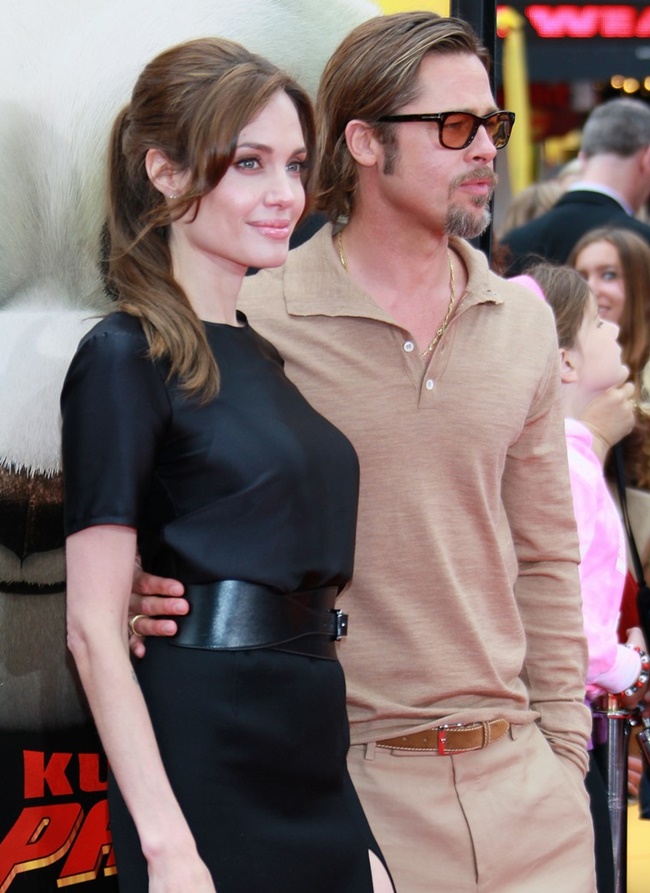 Angelina Jolie and Brad Pitt get married in France on August 23, 2014
They did a really great job of hiding this from the public so kudos to the couple. Before the wedding took place, Angelina arrived at Nice airport in her usual monochromatic attire consisting of belted trousers worn with a white top and a loose cardigan. She punctuated the combination with red-rimmed sunglasses and double-strap flat sandals. It was a classic style that was easy and understated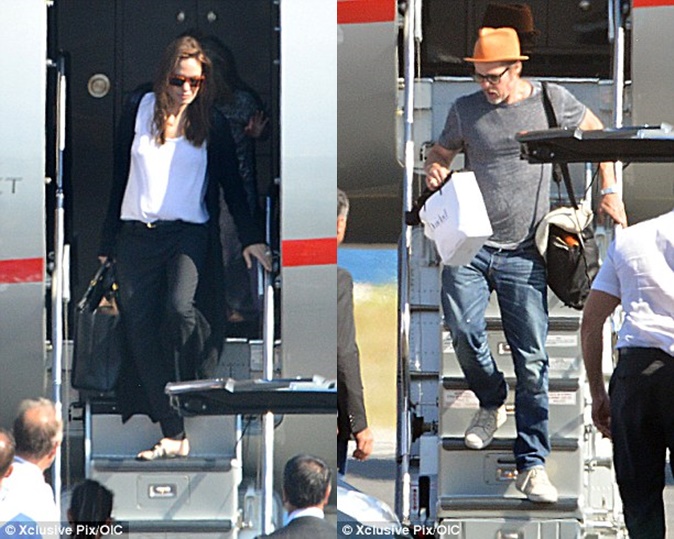 Angelina Jolie and Brad Pitt arrive in Nice on August 22, 2014, a day before their wedding
On Friday (August 29), Angie and Brad were spotted enjoying a boat ride in Malta, where they were reportedly honeymooning. Per usual, Angie's getup for the outing was classic and understated. She rocked a loose tank with baggy trousers — both in black — and punctuated the combination with a wide floppy hat, dark eyewear, and another pair of flat sandals.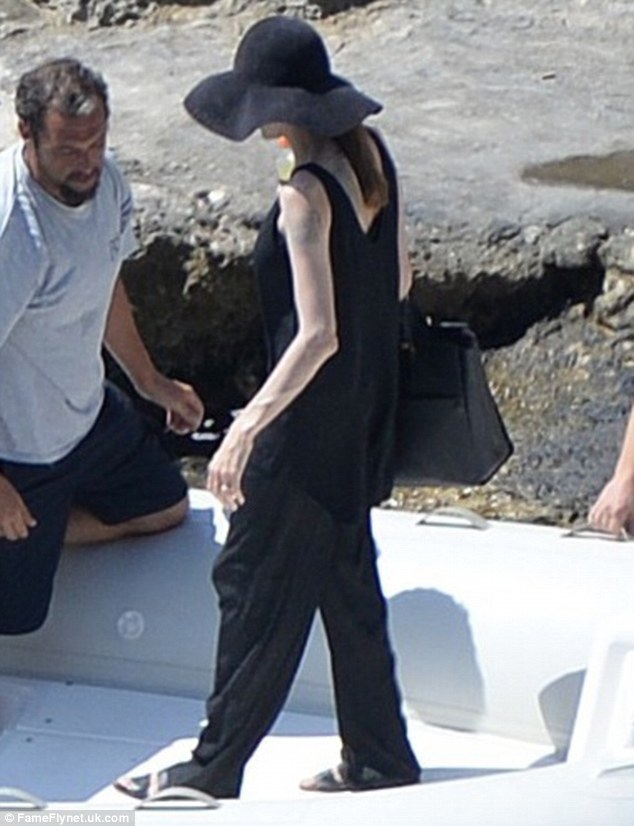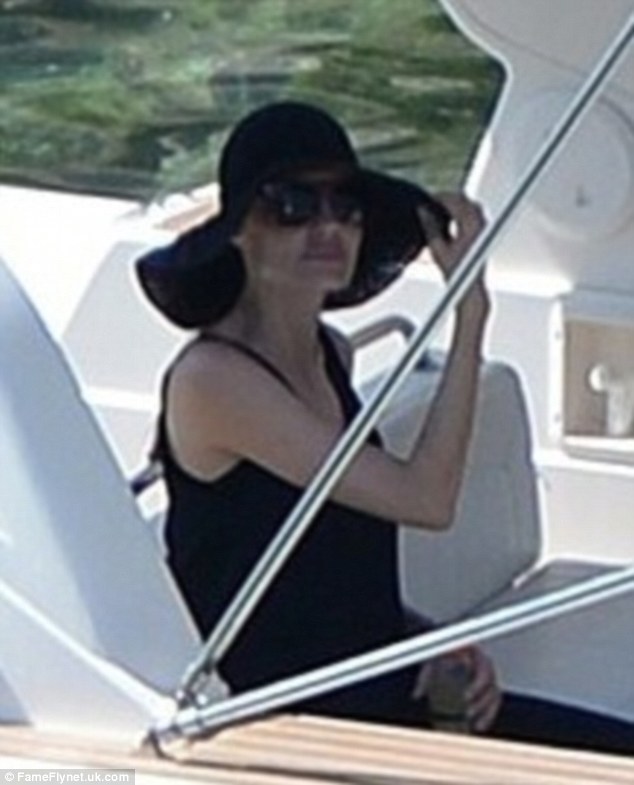 Angelina Jolie and Brad Pitt (not in picture) enjoy a boat ride in Malta for their honeymoon, August 29, 2014
Do you like Angie's pre and post wedding style or do you find it boring? Do you wish she wore a little bit more color, considering the momentous  occasion?
I think she looks elegant. Yes, a nice maxi dress or a sexier dress, for that matter, would have been more interesting to see on her, but she looks good nonetheless. When it comes to traveling, she obviously puts comfort first, and I can completely understand that.
I don't know where Angie purchased her travel-friendly double-strap flat sandals, but my hunch is they're from Saint Laurent. Below are some flat sandal styles from the label.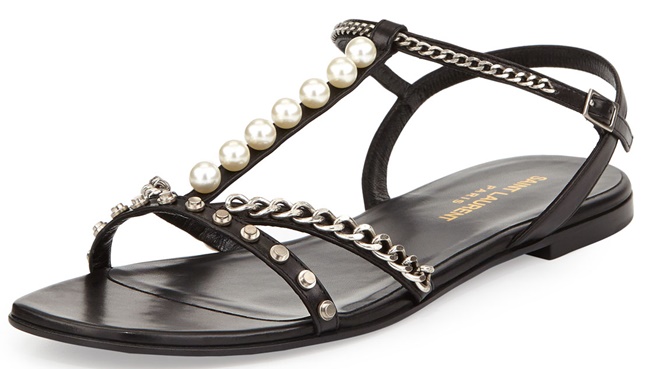 Saint Laurent Embellished Alice Gladiator Sandals, $895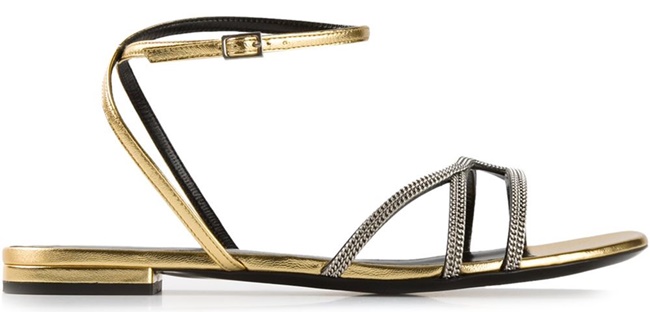 Saint Laurent Chain Detail Sandals, $507 (was $725)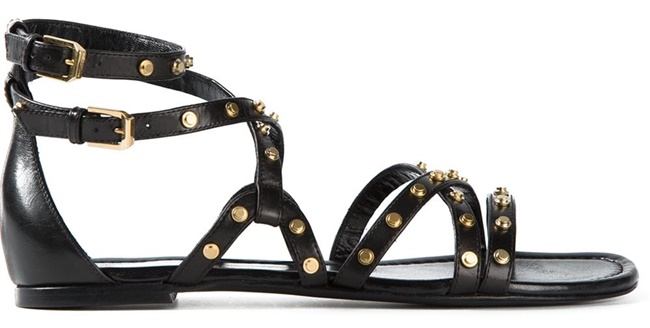 Saint Laurent Studded Ankle Wrap Sandals, $1016 (was $1270)
Saint Laurent shoes are generally expensive, so if you want something similar but don't want to spend, I suggest you grab the highly affordable "January" sandals from Sol Sana instead. These strappy flats feature a mix of patent and smooth leather straps. They're also discounted at $60 so no need to feel guilty for buying a pair: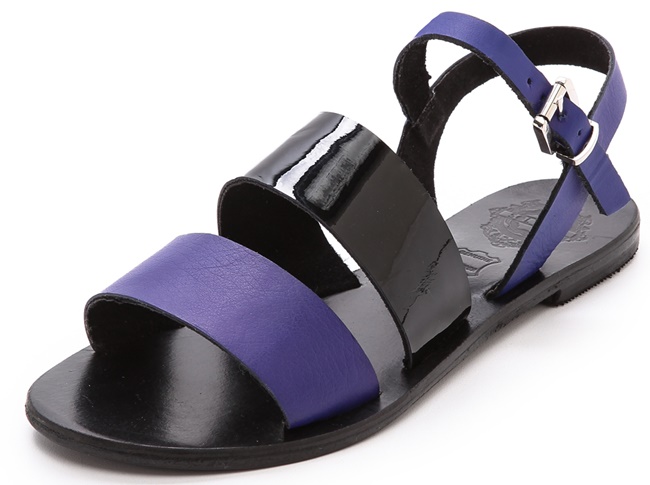 Sol Sana January Sandals, $60 (was $85)